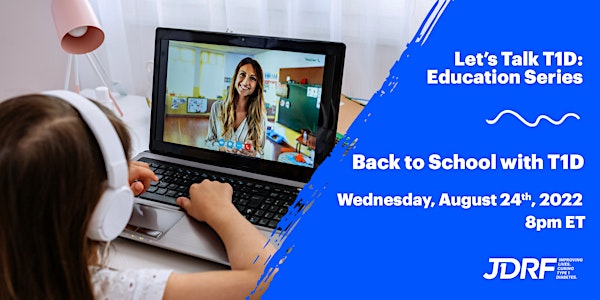 Let's Talk T1D: Back to School with type 1 diabetes
Join JDRF for an informative and engaging discussion about everything you need to know about your child going back to school with T1D.
About this event
As part of our ongoing Let's Talk T1D Education Series, this virtual event will provide participants with information about going back to school when your child has type 1 diabetes, along with the opportunity for a question and answer period.
This webinar is intended for parents whose children are newly diagnosed with type 1 diabetes, who are starting school, or who need tips on improving the school experience. This session is moderated by Elizabeth Moreau of Diabetes@School.
In this session, you'll learn how to:
• Prepare for back-to-school when your child has type 1 diabetes
• Ensure your child's school is prepared, and where to find resources
• Describe the rights of students with type 1 diabetes at school
• Advocate for your child or youth with type 1 diabetes
Elizabeth Moreau lives in Ottawa with her husband and two children, the youngest of whom was diagnosed with type 1 diabetes in 2013 when she was 4 years old. Since then, Elizabeth has been involved in diabetes advocacy and education, primarily focused on supporting kids in school. She is Director of Communications and Knowledge Translation at the Canadian Paediatric Society, where she is the staff lead for Diabetes@School, the first national initiative to focus on the in-school needs of children and youth with diabetes. Elizabeth has a Master of Management in voluntary sector leadership, and a graduate diploma in journalism.