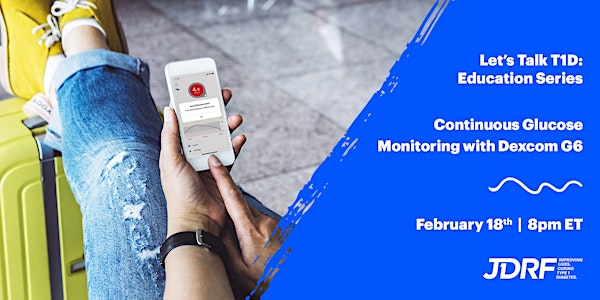 Let's Talk T1D - Continuous Glucose Monitoring with Dexcom G6
Please join us for an informative and engaging discussion with our event partner Dexcom
About this event
Please join us for an informative and engaging discussion about Continuous Glucose Monitoring (CGM) with our event partner Dexcom. Moderated by JDRF and featuring Gabrielle Schmid RD, CDE, CPT | Dt.P, ÉAD, FAP, a diabetes educator and person living with T1D
As part of our ongoing Let's Talk T1D Education Series, this virtual event will provide participants with information about continuous glucose monitoring technology, specifically the Dexcom G6 device. There will also be the opportunity for a question and answer period.
The past 10 years has seen a rapid evolution in the monitoring of blood sugars. "Fingerprick" blood-testing using a glucometer to measure blood glucose in a drop of blood applied to a test strip has increasingly been replaced with newer technology such as continuous glucose monitoring (CGM), with real-time alerts and the ability to see glucose levels at a glance. This technology can help the user prevent lows before they happen, and the additional insight helps to make more informed diabetes management decisions in the moment.
Learn more about the practical aspects of Dexcom G6 and how it can change how you live with diabetes.
This event is open to everyone, including those already using Dexcom technology.
Thank you to our Let's Talk T1D Education Series partners.