Description
In this digital age of publishing, Cate Kuzik of Ochre Lea Letterpress is here to show you the hands-on, immersive process of letterpress!
In this half-day workshop, Cate will walk you step-by-step through the tactile process of creating your own set of letterpress greeting cards. She'll share examples, including live demos, and then guide you through carving an image, setting type, mixing ink, and printing on a hundred-year-old tabletop letterpress. You'll leave with your very own hand-designed and printed greeting cards with a physical quality unlike any other form of printing. Participants will also get a small handmade book on how to print their linoleum at home and a folder/box to take their cards home in.

Working with ink can get messy! We advise you to wear clothing you don't mind staining, just in case.
All materials are included and no experience is required.
Cost: $100 + tax and fees
Length of time: 4 – 5 hours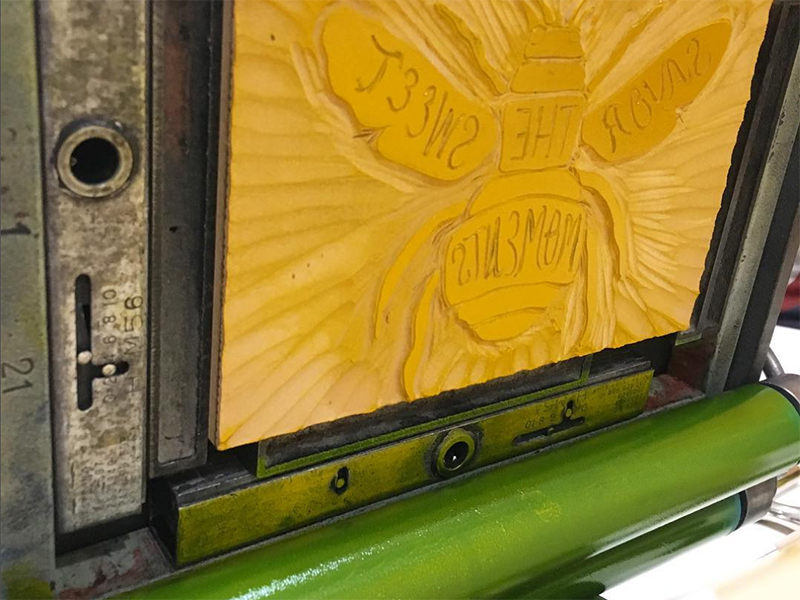 The workshop includes the following:
+ Step-by-step instruction by the talendted Cate Kuzik of Ochre Lea Letterpress
+ 20 sheets of paper, A2 (4.37" x 5.75")
+ 5 sheets of Kraft paper, A2
+ 20 envelopes
+ 3" x 5" mounted linoluem
+ Cold drinks, tea and cookies
All other equipment and materials will be provided for use during the workshop, these include:
+ 2 Kelsey 5 by 8" tabletop Letterpresses
+ Ink, gloves, rags, oil, and cleaner
+ Furniture, Reglet, and Leading
+ Composting sticks
+ 6 type fonts (18, 24, 30pt) and spacers
+ Quoins and Quoin Key
+ Palette Knives
+ Pica Rulers
+ Brayers
+ Bench Hooks
+ Carving Tools

Please also note the following:
In order to secure your spot in the workshop you must purchase your tickets online. You will receive an e-ticket to confirm your registration. All workshop fees are NON-REFUNDABLE. For more information please send us an contact us at the shop. Thank you.