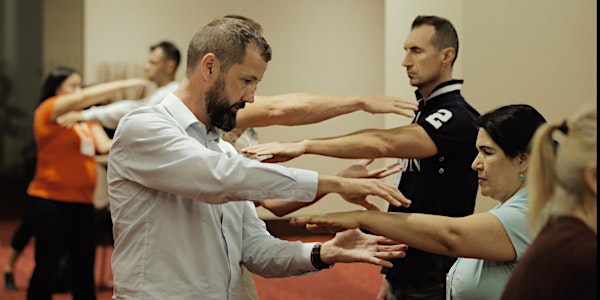 Level 1 Bio-Inspired Workshop - Vancouver, 29/30 October 2022
Come together for a beautiful healing retreat and feel your heart opening, expanding and connecting with like minded people!
When and where
Location
Vancouver To be announced Vancouver, BC V6G 1M5 Canada
About this event
Learn Bio-Energy Healing with Michael D'Alton
           ** Watch this short intro video **
*Workshop date: 29/30 October, 2022*
Discover in only one weekend effective Bio-Energy Healing techniques you can immediately use to heal yourself, your friends and family!
Have you ever felt like your health is in someone else's hands? This workshop gives you the tools to bring your health back into your own hands and get your energy flowing freely so your body can restore itself to it's natural healthy state.
This workshop Includes:   
* Understand how to master your energy and change illness into well-being
    * Feel the life force within you when your energy is flowing freely
    * Learn to trust your healing ability and allow energy to work for you
    * Gain access into the world of infinite possibilities and create what you've always dreamed about
    * Learn to create more balanced and rewarding relationships
    * The 3 missing ingredients to applying the law of attraction
    * Come face to face with what stands in your way and move beyond these limitations
By the end of this workshop you'll learn what 'energy' is, how our health is affected by the flow of energy and how you can actively direct this natural flow. You'll learn how to heal yourself and others using the 12 foundational Bio-Energy Healing techniques.
    * You'll experience both giving and receiving Bio-Energy Healing throughout the workshop, with coaching to learn the techniques
    * You'll receive a workshop e-manual with technique instructions and exercises designed to assist you in releasing 'stuck' energy in specific areas of your life
Learn how to show up in your life, release blocked energy and shift issues on an energetic level with our life changing weekend workshop on Bio-Energy Healing.
Imagine being able to heal yourself and those you care about after one weekend of training! It truly is the biggest gift you could give.
Workshop Tuition: Full price $1495 discounted to $695
What people are saying about Level 1...
'Michael offers a quick start course of applied learning with impact full yet easy to learn introduction to energy healing and self realization with practical tools to reach your goals.' - Eric, Edmonton
'Michael offers this wisdom in practical, experiential ways so you take away concrete information embodied at a cellular level. You can use it immediately; you can feel the transformation, the shift. It is the most powerful, life changing work I've ever done. If we know how to work with energy, everything else falls into place.' - Phyllis, Burnaby
'When the student is ready the teacher appears and gives you the missing link.....a kick in the 'backside' and tools to move you to the next level. Thank you Michael, you are a blessing indeed.' - Renata, Vancouver
'There were more 'ah ha' moments this weekend than I could have imagined! Thank you, Michael for helping me realize that I too can find my way back to natural health.' - Karen, Vancouver
'As Michael said at the beginning of the workshop, it was the best weekend of all my life. With simple but valuable information, I feel able to change my life and create wonderful experiences. I feel happy, full of energy. I am open to a world of infinite possibilities and prosperity. Thank you Michael.' - Adriana, Vancouver
Reserve your place today by purchasing a ticket above. Space is limited.
Contact information:
Michael D'Alton's School of Bio-Energy Healing
This event is non refundable but is transferable to future dates or courses.