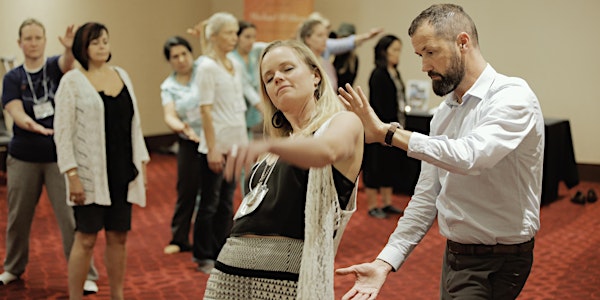 Level 2 International Bio-Energy Practitioner ONLINE Training, May 2023
Learn powerful Bio-Energy Healing techniques through online ZOOM training Starts May, 2023 with Michael D'Alton
Date and time
Wed, May 24, 2023 10:00 AM - Wed, Nov 22, 2023 1:30 PM PDT
About this event
Level 2 Bio-practitioner diploma training program is now available online.
Michael is Celebrating his 30th year of Bio-Energy Healing! Are you interested in learning energy healing?
Get 30% OFF during the 30th Year. Registration Closing Soon!
Tuition: $3995 plus gst (30% off in 2023) Save $1199 . Now tuition is $2796
Pay 1st payment of $349.50 to secure your spot, plus seven monthly payments of $349.50 between May and November. We will also include the GST into training fee so you save an extra $139.75
What students are saying about Bio-Training;
Hi Michael! Bio-Energy level 2 really inspired me towards growing and expanding into my limitless potential - all while supporting and helping others. This course was life changing, clarifying and empowering - truly one of the best investments I've made! Thanks Michael! Cheers, Clare
Michael's Bio-Energy Healing Level 1 opened my mind in ways I never knew possible. I could not wait to get into the next level of expansion with him. I just finished his level 2 Bio-Energy healing program, I am learning, expanding, and evolving, and I am so grateful to Michael for taking me on this incredible journey into higher consciousness. Lisa
The program will run between May-Nov on Wednesdays from 10am-1:30pm Pacific time .
2023 Training Dates
May 24,31
June 7,14,21,28
July 12,26
Aug 9,23
Sept 6,13,20,27
Oct 11,25
Nov 8,22
Total 18 classes. During the class you'll be receiving healing transmissions directly from Michael, Bio-Energy lessons and technique support as well as interactive guidance. You'll also be provided with videos of each of the techniques and an E-manual of lessons. Although we will miss the physical interaction and experience of travelling to an exotic location like Costa Rica for the training, the big advantage of the online training is the weekly-monthly interactive training classes and the accessibility to take the course from home or abroad.
In our experience Bio-Energy Healing is the most powerful, exciting and clinically effective treatment available. Bio-Energy Healing is totally non-invasive and can also be easily applied to children and animals. It is fast acting with permanent results and treats numerous physical, emotional, mental and spiritual health issues. Bio-Energy Healing heals the person from the inside out, and also energizes the practitioner. It is easy to learn and enjoyable to practice, it takes nothing from you and gives you so much!
Michael D'Alton delivers mind-blowing concepts in simple ways that allows you to understand and integrate the teachings in the most practical way. Michael's humor, expertise and enthusiasm for healing and teaching is contagious and enjoyable to the core. Michael has a unique ability to help his students (young or old, experienced or new) get out of their own way to awaken and free their healing abilities.   
Course Curriculum:
The Eastern and Western approach and understanding of Energy Healing
The science behind Energy Healing and the quantum effect of our intention
How the Bio-Field works and the cause of acute and chronic illness
A complete set of Bio-Energy Healing techniques including advanced healing techniques
The science of the body's regeneration process and the hidden blueprint behind cell renewal
A breakdown of 5 structures behind the success of Bio-Energy Healing and how to repeat them effectively
An incredible self healing journey through the seven chakras integrating physical, emotional, mental and spiritual awakening.
Healing core wounds and integrating feelings and emotions.
How to feel, see, intuit and interpret energy and blockages in the Bio-Field
Unlocking the magic of the law of attraction using energy, frequency and vibration
Bio-Energy Healing techniques review
Breathing techniques to reset the nervous system
Coming into right relationship with yourself, nature and each other
Self Care program
Running a professional practice and evaluating client's results
Please note: The Level 1 Bio-Inspired Workshop, online or in person, is a prerequisite for this course.
Each class is recorded in case you can't make one.
If you have any questions please contact info@daltonsbio.com
Personal note: It is my deep pleasure and service to share these powerful healing techniques with you. This is a natural technology that we all can learn and use effectively. Some people take the training to become practitioners, others for themselves or their family and some feel a call to service. When you enter the magical school of energy healing you will discover that you are far more powerful, magical and electrical than you have been led to believe!
With love and blessings,
Michael D'Alton
I am very very happy that I decided to take the Level 2 Practitioner course. If the level 1 changed my life, this one gave me the tools to help others change theirs and took me into the deepest and most magical journey I've ever been in. I feel better that ever before and more healthy and aware of my well being. Paula
Hi Michael, "The Level 2 course has expanded my consciousness of the extent of the power that we all hold within us, while giving me the tools to physically connect to that which we are made of but cannot see with our eyes. It has been a beautiful and transformational journey thrusting me onto a path I am excited to keep walking and learning on." From the bottom of my heart thank you for sharing your knowledge and wisdom over the past 6 months, it is everything my whole being needed right now to set me off into this next phase of this life! All the best, Sarah
"Bio-Energy Level 2 course was definitely an eye opener for me. I have been practicing in alternative medicine for the last two decades, practicing a few different modalities, primarily Chinese Medicine. The simplicity and efficacy of Bio-Energy as taught by Michael D'Alton has taken my understanding of health and healing to a new level. I'm forever grateful for this learning and growing opportunity both on a personal and professional level---- Armin."