Description
Practitioner Advanced Master Class
with
Michael D'Alton

This class offers graduates of the Level 2 Pracitioner Training an opportunity to deepen their knowledge of the Bio-Energy techniques, enhance their understanding of the application of the Bio-Energy Techniques and improve the overall effectiveness of their bio-energy sessions.
Saturday will incorporate the majority of the Level 1 and Level 2 Techniques and Sunday will be spent going through Level 3 techniques. For some Practitioners the Level 3 Techniques will be new and they'll be learning and practicing them for the first time.
This training weekend will primarily be a practice weekend for Practitioners going over the techniques in drills to strengthen muscle memory and tweaking the techniques for efficiency and effectiveness! Also, there will be six or more techniques added to the practitioners technique toolbox.

This Master Class Includes:
Learn 6 Level 3 techniques

Detailed review of the purpose and placement of Level 1 and 2 techniques

Learn to achieve better results with less effort!
Our new Practitioner Advanced Master Class is open to all students who have previously completed the Level 2 training under Michael D'Alton's School of Bio-Energy Healing.
This Master Class is ideal for students who want to improve timing, application and effectiveness of their Practitioner level techniques.
Demo image of Bio-Drills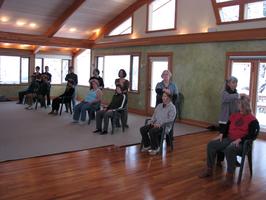 'What lies behind you and what lies before you, pales in comparison to what lies inside of you.' - Ralph Waldo Emerson
Contact Details:
Bio-Energy Training: 604 688 5177
Bio-Energy Treatment (Electra Health Floor): 604 685 4325