About this Event
LEVEL UP is back for PRIDE! The QTBIPOC DJs & performers you know and love but with a lot more face masks and hand sanitizer! 🌈
Level Up introduces THE POD PARTY 🎉
Pride Friday + Saturday at the Warehouse!
We've figured out a way to gather together outdoors under the current provincial event guidelines, and have worked hard to set intentional rules and protocols to ensure community safety.
>> WHAT YOU NEED TO KNOW <<
To keep everyone safely distanced, circles will be drawn out on the ground. You will be able to book out a circle for you + your pod members, and each circle will have a table. Tickets will be available by the circle or "pod". When buying your circle online, you will be given the option to purchase a table for two, four or six. Unfortunately, single person tickets will not be available due to restrictions around spacing.
Current event guidelines limit us to only fifty guests at a time. To accommodate more people, both event days will be split up into 2-hour time slots. When purchasing your ticket, you will be asked to choose the size of your pod, and a time slot.
For those unable to attend in person, don't worry! We will also have a livestream link available closer to the date.
Friday July 31st (5pm-10pm) is reserved for BIPOC community (Black, Indigenous and People of Colour). We ask that those who purchase tickets for Friday be folks who identify as BIPOC only!
Saturday August 1st (1pm-8pm) is open to ALL!
DJS
Softieshan
Paisley Eva
Mangosweet
Kotà
PERFORMERS
Kendall Gender
Venus Kunt
Vixen Von Flex
Abb'Original
FRIDAY JULY 31ST (FOR MEMBERS OF THE BIPOC COMMUNITY)
1ST TIME SLOT - 5:00PM-7:15PM
2ND TIME SLOT - 7:45PM-10:00PM
SATURDAY AUGUST 1ST (OPEN TO ALL)
1ST TIME SLOT - 1:00PM-3:00PM
2ND TIME SLOT - 3:30PM-5:30PM
3RD TIME SLOT - 6:00PM-8:00PM
Tickets go on sale online FRIDAY JULY 15th at 12pm NOON!!
leveluppride2020.eventbrite.ca
TICKETS PRICED BY THE CIRCLE (includes your first round of drinks! Fees & tax extra, further details on Eventbrite)
$52 Pods of 2
$104 Pods of 4
$156 Pods of 6
***NOTE: Tickets are ONLY available advance! (no tickets will be sold at the door!)
***NOTE: We have a select amount of sponsored pod tickets for those with financial barriers. Please contact leveluppride2020@gmail.com to request!
SAFETY PROTOCOLS & RULES
-We encourage everyone to stay within their designated pods during the event, as much as possible.
-If you need to leave your pod, to go to the washroom, bar or ATM, it is mandatory that you wear a mask.
-BYO-Mask please! We will have disposable masks available at the door for anyone who doesn't have their own
-Each pod will be provided with hand sanitizer.
-We will have servers providing table service, so guests can order drinks without leaving their pods. You will also have the option of lining up at the bar and purchasing drinks directly from the bartender if you wish.
-Guests can pre-purchase drink tickets via Eventbrite, to reduce in-person transactions on event day. You will also have the option to buy additional drink tickets at the event.
-All line up areas will have 6' (2m) markings on the ground to ensure proper distancing.
-A harm reduction buddy with first aid & Narcan training will be on site at all times to assist in keeping everyone safe.
-All tables, chairs and common areas will be fully sanitized between each 2 hour time slot.
-In the interest of community safety, anyone who neglects to follow the safety rules will be asked to leave.
HUGE THANK YOU TO:
PBR for their event support!
Greenscape Design & Decor for sponsoring us with a tropical parking lot transformation!
ACCESSIBILITY INFO
ASL interpretation will be provided upon request. Please email leveluppride2020@gmail.com if you or someone you know requires ASL.
The event will take place in the parking lot, with a flat, ground level entrance. The bar will be located in the inside loading bay area. We will be providing table service for drinks, but guests can also order directly from the bar. Guests in mobility devices can access the bar via the entrance ramp, located on the North side of parking lot (right side of the warehouse as you're facing it), which is 38in wide with a handrail to the left 41in high. Accessible door has a clearance of 45in. Portable toilets will be located in the parking lot, including an accessible portable. Washrooms are all genders. In the parking lot there are picnic tables, large adirondack style lawn chairs, and standard 18in high outdoor chairs. Please email leveluppride2020@gmail.com with any questions!
We acknowledge that the land that we are so lucky to be able to throw this party on belongs to the Skwxwú7mesh (Squamish), Səlílwətaʔ/Selilwitulh (Tsleil-Waututh) and xʷməθkʷəyəm (Musqueam) people. We acknowledge that we benefit and get to do the work that we do on this land because of colonization and the ongoing genocide of Indigenous people that has lasted for centuries. With these acknowledgments also comes the acknowledging that "Vancouver" is also home to a lot of First Nations, Inuit and Métis people from all over Turtle Island.
We would like to show gratitude to our queer Indigenous friends and family attending by offering them complimentary drink tickets this Pride at Eastside Studios. If you do not drink you can email leveluppride2020@gmail.com to receive a complimentary ticket to the event instead! The reason we would like to offer drink tickets versus free cover is simply that all of the money from ticket sales go directly to all of our incredible BIPOC artists and drink tickets will be graciously donated by the venue. As stated above if your pod faces financial barriers and would benefit from accessing a sponsored table you can email leveluppride2020@gmail.com.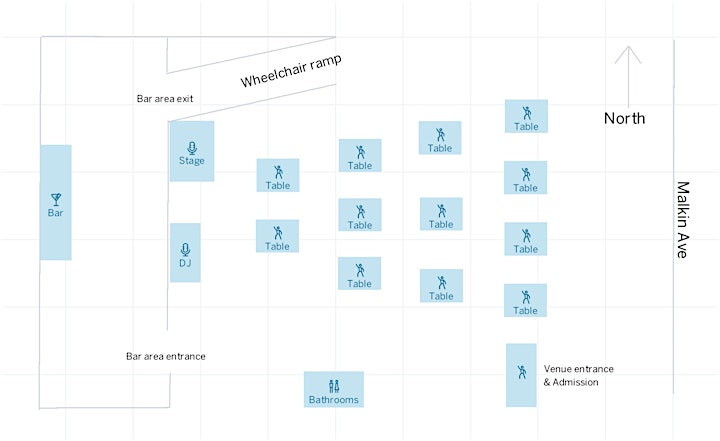 This venue map is NOT to scale!
Tables will be generously spaced for social distancing.
Table placements may vary slightly from this map.