Level UP - The Finance & Funding Masterclass for Black-led Businesses
Level UP - The Finance & Funding Masterclass for Black-led Businesses - Tuesdays at 2:00 PM.
About this event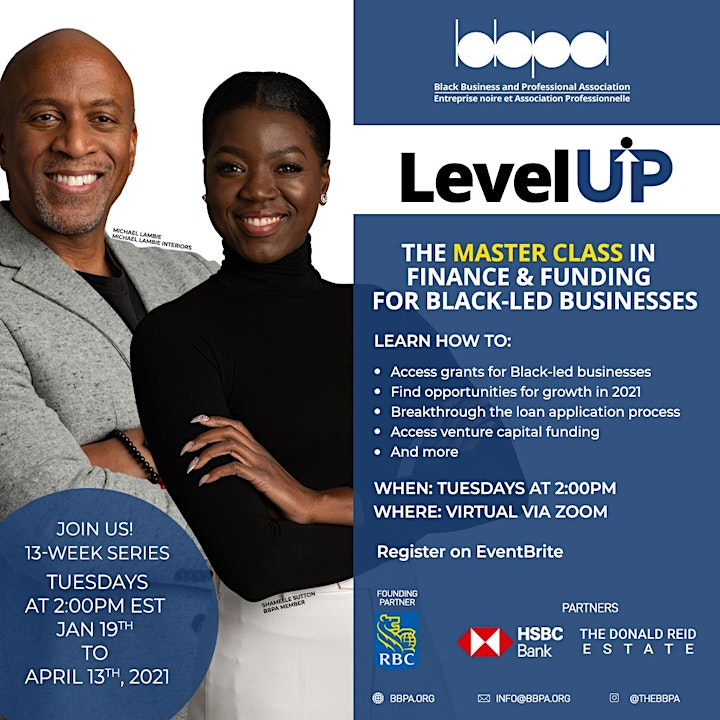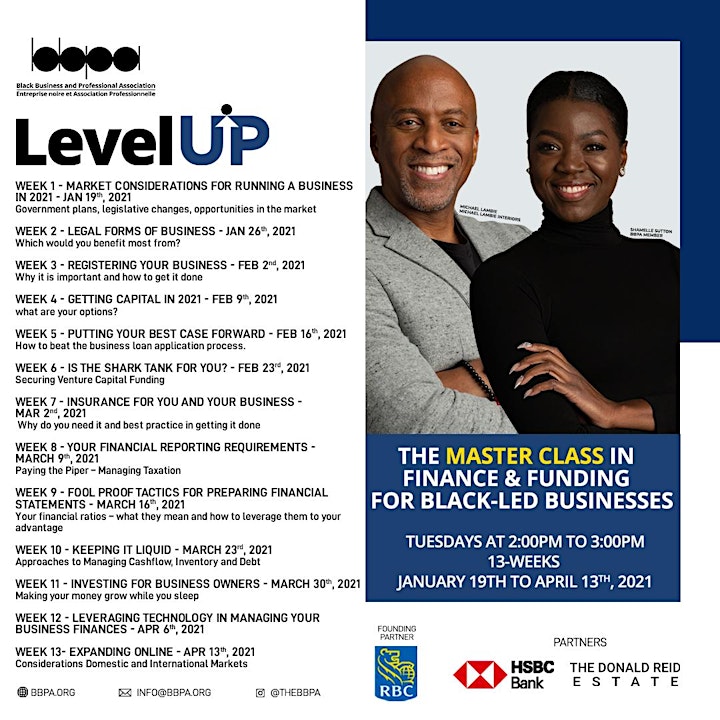 Level UP – The Finance Masterclass for Black Business Owners, is a 13- week program which will equip participants to successfully navigate the minefields of funding as a Black Business Owner.
From gaining access to funding, managing debt, navigating tax-season, preparing a solid business case for loan applications, and walking away a winner when seeking to acquire venture capital funding.
The program will be hosted every Tuesday, beginning January 19th, 2021 through to April 13th at 2:00pm. We will feature note-worthy speakers, exercises, debates and activities to collectively support and build a roadmap for the success of our Black businesses. Register here
Program curriculum:
1. Market considerations for running a business in 2021 - Government plans, legislative changes, opportunities in the market
2. Legal forms of business – which would you benefit most from?
3. Registering your business – Why it is important and how to get it done
4. Getting capital in 2021 - what are your options?
5. Putting your best case forward – How to beat the business loan application process.
6. Is the Shark Tank for You? Securing Venture Capital Funding
7. Insurance for you and your business – why do you need it and best practice in getting it done
8. Paying the Piper – Managing Taxation
9. Fool proof tactics for preparing Financial Statements
10. Keeping it Liquid – Approaches to Managing Cashflow, Inventory and Debt
11. Investing for business owners – making your money grow while you sleep.
12. Leveraging Technology in Managing Your Business Finances
13. Expanding Online – Considerations Domestic and International Markets
Participants will receive a certificate of completion at the end and be positioned to thrive financially with the tools needed to make sound financial decisions.
When: Tuesdays at 2pm EST
Period: January 19th to April 13th, 2021
Where: Zoom
Register now - Zoom Details shared once registered.