Leverage Lab COLLABORATIVE 2018
Description
LEVERAGE LAB helps competitors collaborate with government and academic institutions in finding collaborative solutions to their common sustainability problems. Our model connects talented, creative and motivated graduate students with local organizations to accelerate R&D towards a more circular economy. We work with all committed stakeholders in a 'social innovation lab' format to develop shared solutions, knowledge, and methods for collaborative action towards change.
Businesses tend to approach sustainability challenges individually and miss out on the benefits of cooperation. Governments are building strategies that don't incentivize businesses to help them reach their goals. Academic institutions often conduct research on hypothetical problems, leaving students with little to no practical experience upon graduation.
We bring these stakeholders together to generate shared ownership and unified action towards lasting impact. We prepare businesses for the future, helping them understand and mitigate risks of a changing economy. We help them with the transformation of our economy from one defined by continuous growth to one that functions within the limits of a finite planet. In doing so, they benefit from maintaining their competitive edge, reducing turnover, retaining and recruiting top talent. They get what they need to become industry leaders, and to amplify their potential to create meaningful impact, all at a fraction of what it would cost them to do it alone.
HOW IT WORKS:
We'd like to acknowledge our Partners who play a role in funding us, hosting workshops in their space and assist with outreach.
How Leverage Lab COLLABORATIVE works?
Leverage COLLABORATIVE, a year-long program where progressive organizations gather 3 times aprox. once every second month for a full-day facilitated workshop to build collective action and prototype solutions to the problem.
Our partners and co-conveners will work between meetings to offer:
1500 facilitation and administration hours throughout valued at $60,000 dollars

1100 Research and Development hours with leading academic institutions valued at $45,000
There will be a Debrief celebration at the end where participants share progress, celebrate solutions, and discuss lessons learned as well as next steps.

Opportunity:
Learn to mitigate risk in your enterprise due to increased knowledge and connections pertaining to circular design.

Demonstrate leadership in the apparel industry, and to signal to customers that your company is "walking the talk" in adopting sustainable practices.

Show shareholders follow-through on strategic commitments to R&D, greener business practices, and innovation at a fraction of what it would cost you to do it alone.

Have access to leading thinking and resources around issues of sustainability in the apparel industry particularly with take-back programs and circular economy models.
Gain leadership in shaping a solution that works for Vancouver's textile economy.

A continued sense of camaraderie and deepening of relationships with like-minded individuals.
Schedule (dates are pending and depend upon funding support):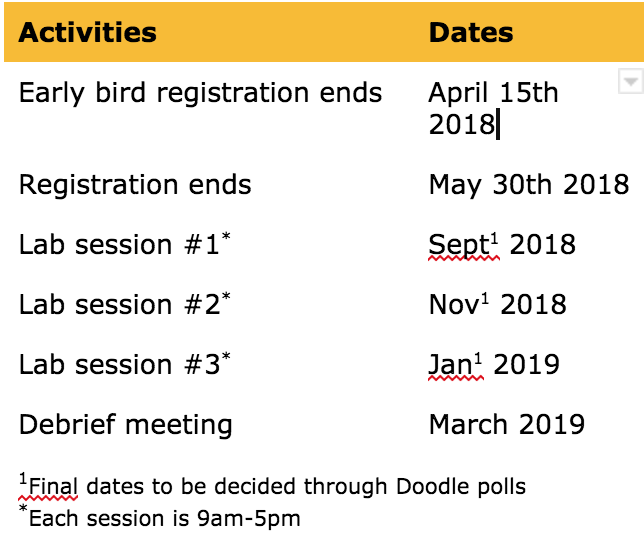 `
In order to participate organizations will need to register here by May 30th. They will also need to meet a set of criteria demonstrating their willingness to put some skin in the game. We are looking for progressive organizations who are willing to either trial innovative recycled product in their store, lend us their R&D assets, share their waste stream products or survey their customers. This Lab is for those willing to test, and push boundaries to trial new opportunities pertaining to circular fibers economy. No spectators welcome! Past Participants

Here are a few testimonials to give you more of an idea of what we are about:
"The Leverage Lab allowed me to collaborate in ways rarely found within my industry. With the guidance of Sara and her team, I discovered the areas in our business making the biggest environmental impact – sparking our initiative to address them as part of our corporate sustainability plan. Now, we are working towards a greener business." - Sarah Cumming - C.O.O. at GENTLE FAWN
"Through facilitated networking sessions, the Leverage Lab helped us reinforce and develop new business relationships. We're a service organization, and the process allowed us to better see our business as inputs and outputs; allowing us to see new opportunities to be more sustainable.- Darla Simpson - Engagement Specialist at SES Consulting Inc.
"The Leverage Lab is a great resource for sharing industry perspectives and promoting future collaborative change. As it keeps growing key partnerships, these sessions have the potential to create large-scale change through an effective platform of open discussion. I was pleased to see a good mix of industry representatives in attendance at the sessions I participated in.- Kemp Edwards - President at Ethical Profiling
FAQs
How do I get the Discount? Email: sara@theleveragelab.com for the code

What is the benefit of participating in Leverage Lab COLLABORATIVE? Leverage Lab COLLABORATIVE gives you the opportunity to address problems your business and industry face on a systemic level with other industry partners. It gives you the opportunity to partner up with other key stakeholders to identify the key challenges and construct solutions that accurately address these problems. In this case, you and your peers in this workshop will work towards building a solution that addresses the lack of regional end markets for apparel waste that otherwise goes to the landfill.
What if I cannot make a meeting? Each candidate commits to participating in all 3 sessions - no exceptions. Meetings are selected based on the results of an online Doodle poll to best accommodate everyone's different schedules.
What if I have more questions? Feel free to reach out with questions by email to sara@theleveragelab.com