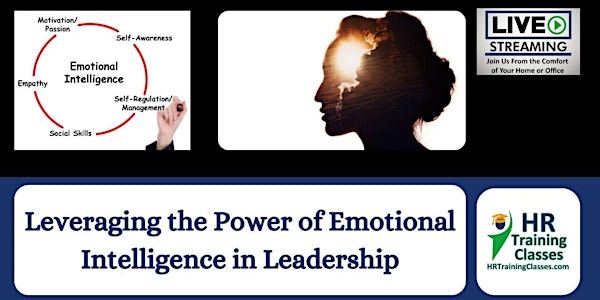 Leverage Power of Emotional Intelligence in Leadership Certificate Program
Join us online for our two-way interactive live training! Emotional Intelligence is one of the most crucial qualities of a great leader.
By HRTrainingClasses.com®
Date and time
January 19 · 7am - January 20 · 2pm PST
Refund Policy
Contact the organizer to request a refund.
Eventbrite's fee is nonrefundable.
About this event
In this time of changing work environments, demanding work expectations and the pressure to balance work-life demands, successful leaders need to lead with emotional intelligence. To lead by your IQ is no longer the norm. According to CIPHR, "90% of top-performing employees have high Emotional Intelligence".
Continuing Education Credits
HRCI – 14 HR(General) Credits • SHRM – 14 PDC's
Schedule (both days)
10:00 AM – 6:00 PM Eastern Time
15 Minute Break at 12:15 PM ET
1 Hour Lunch at 2:00 PM ET
15 Minute Break at 4:45 PM ET
Emotionally Intelligent leaders will separate fair leaders from exceptional leaders. These leaders will:
Be able to navigate the complex needs of their team members
Provide guidance and support while continuously meeting project goals
Face challenges head-on by removing obstacles and continuously learning
Balance work-life demands for themselves and others
Emotionally Intelligent leaders:
Know their own emotional triggers and how to react to avoid missteps or misunderstandings
Recognize others' needs and react in the moment with empathy and understanding
Understand differences to cultivate creativity and innovation
According to LinkedIn – "Workers who have managers with high Emotional Quotient (EQ) scores are four times less likely to quit than those with managers who have low EQ."
Without Emotional Intelligence, work environments will lack energy and employees will lack motivation. Without employee engagement, you will be unable to attract the best talent and retain that talent.
In this course you will learn:
What qualities and attributes build Emotional Intelligence?
Why leaders with high Emotional Intelligence are important to an organization's success.
Why understanding yourself is core to your own Emotional Intelligence.
Why your emotional triggers are important and what to do about them.
How your emotions can impact your team and work environment.
Considerations to recognize and lead intergenerational teams.
Techniques to challenge your own beliefs or behaviors.
What it takes to understand yourself and others.
To focus on yourself and identify your own course of action for change.
This two-day workshop will equip you with activities, techniques, tools and knowledge to build your Emotional Intelligence and increase your Emotional Quotient.
Agenda Day 1:Pre-TestModule 1 – A Summation of Emotional Intelligence
A Brief History of Emotional Intelligence
Emotional Intelligence Definitions
Who needs Emotional Intelligence
Module 2 – Overview of Emotional Intelligence
Goals of Emotional Intelligence
Case Study
Review Questions
Module 3 – Benefits of Emotional Intelligence
Stress In Our Lives
Reducing Anxiety and Stress
Using Emotional Intelligence to Resolve Conflict
What is Relationship Management?
How to Overcome Obstacles at Work
Case Study
Review Questions
Module 4 – Social Skills
Building Rapport
Recognizing Nonverbal Communication
Understanding Emotional Awareness
Why is Empathetic Accuracy Important?
Case Study
Review Questions
Module 5 – Reducing Anxiety and Stress
Using Mindfulness for Problem Resolution
Thinking Through and Changing Thoughts
What Can You Change?
Long-Term Relaxation Techniques
Case Study
Review Questions
Module 6 – Conflict Resolution
Working As A Team
Using Your Ability To Change
How Does Reverence Help?
Seeing The Big Picture is Helpful
Case Study
Review Questions
Module 7 – Relationship Management
Using Effective Communication
Bringing Out the Best In Everyone
Using Motivation
How To Influence with Emotional Intelligence
Case Study
Review Questions
Module 8 – Overcoming Obstacles at Work
Recognizing Failure
Admitting Failure
Learning From Failure
What it takes to Implement Change
Case Study
Review Questions
Module 9 – Building Rapport
What Do You Observe in Others?
Why Asking Questions Is Important
The Importance of Actively Listening
Finding Common Ground
Case Study
Review Questions
Module 10 – Nonverbal Communication
What Do Facial Expressions Tell You?
How Do You Read Body Language?
Are You Giving Your Full Attention?
How Does Personal Space Affect Others?
Case Study
Review Questions
Module 11 – Emotional Awareness and Empathetic Accuracy
Why Is Emotional Awareness Important?
What Do You Cognitively Observe?
What Role Do Emotional Responses Play?
What is Compassion?
Case Study
Review Questions
Module 12 – Generational and Cultural Differences
Generational Intelligence and Emotional Intelligence Defined
Generational Differences in the Workplace from Baby Boomers to Gen Z
Common Generational Issues in The Workplace
Techniques To Bring Them Together
Journal Activity
Module 13 – Controlling your Emotions
Understanding Yourself and Controlling Your Emotions
Becoming Self Aware
Managing yourself
Become socially aware of yourself with others
Controlling Emotions with Relationship Management
Journal Activity
Module 14 – Change
Understanding Yourself and Your Style of Communication
Why Switching Your Communication Style Is Key
Learning to Change
Agenda Day 2:
Module 15 – Foundations of Emotional Intelligence and You
Activity 1 – Emotional Leadership Pizza – A Self-Assessment
Emotional Intelligence Rooted in Our Work Skills
Activity 2 – How Observant Are You? – Take A Quiz
Review Your Answers and Discuss Your Learnings
Journal Activity
Observing Reactions in Others
Activity 3 – Heard, Seen and Respected
Understanding Your Temperament and Emotional Intelligence
Activity 4 – Temperament Analysis
Activity 5 – If You Knew
Journal Activity
Module 16 – Applying the Definition of Emotional Intelligence
At The Tip of The Iceberg – What Lies Beneath?
Activity 1 – Observations and Reactions
Empathy Defined – Cognitive, Emotional and Compassionate
The 4 Components of Emotional Intelligence
Activity 2 – Leadership and Emotional Intelligence
Journal Activity
Module 17 – Tying Emotional Intelligence to Diversity, Equity and Inclusion
Diversity, Equity and Inclusion – The 4 Layers of Diversity
What is Emotional Intelligence Diversity – Definitions and Components
Applying the Emotional Intelligence Diversity Model at Work
Activity 1 – Applying the Model to Your Work
Journal Activity
Module 18 – Growth Mindset and You
Growth Mindset and You
Growth Mindset at Work
Applying Emotional Intelligence
Activity 1 – Adopting A Growth Mindset
Journal Activity
Module 19 – Emotions – Controlling Yours and Understanding Others
Activity 1 – Expressing Feelings Using the Feeling Wheel
Defining Emotions, Moods and Feelings
Understanding Yourself and Understanding Others
Activity 2 – Video – How Do You React to Others?
Activity 3 – Video – Are You Really Listening?
Journal Activity
Module 20 – Your Brain and Emotional Intelligence
How Does Your Brain Process Emotions?
How Do You Respond to Situations?
Activity 1 – Everyday Hassles
Activity 2 – Flip It
Activity 3 – Four Corners
Empathy – A Key Component
Activity 4 – Veggies and Biases
Activity 5 – Reaction Selection
Activity 6 – Video – What Are You Feeling and What Are You Going to Do?
Journal Activity
Module 21 – Emotional Intelligence and Self Care
Why Is Self-Care Important?
How Do You Take Care of Yourself?
The Importance of Relationships
Journal Activity
Module 22 – The Importance of Resilience
Defining Resiliency
Why Do We Need to Be Resilient?
Activity 1 – Building Your Resilience Support
The Importance of Relationships
Journal Activity
Module 23 – The Importance of Trust
Leadership and Trust
Activity 1 – Trust Currency
Journal Activity
Module 24 – Authenticity and Emotional Intelligence
Why Being an Authentic Leader Is Important
What Can You Do to Boost Authenticity
Activity 1 – Write Your Mission Statement
Journal Activity
Post TestConclusion and Closing
About the organizer
HRTrainingClasses.com® is 100% devoted to assist every single HR Professional to obtain their aPHR, PHR, SPHR, SHRM-CP or SHRM-SCP Certification. In addition to providing aPHR, SHRM-CP, SHRM-SCP, PHR, SPHR Exam Prep Training Courses and Online Classes, HRTrainingClasses.com® will also provide Re-certification Programs to complete the credits necessary to maintain their HR Certifications. HRTrainingClasses.com® is also an Approved Certification Preparation Provider for HRCI and an Approved Provider by the Human Resources Certification Institute (HRCI) as well as SHRM as a re-certification credit provider . We are happy to be part of your incredible journey in the rewarding WORLD of Human Resources!
Email: support@hrtrainingclasses.com
Website: https://www.hrtrainingclasses.com/organizer/hrtrainingclasses-com/
Phone: 800-610-5951