Leveraging the CSE to Access US Capital Markets

Tuesday, 24 February 2015 from 4:00 PM to 7:00 PM (EST)
Event Details
The CSE - Canadian Securities Exchange, in partnership with OTC Markets Group, MNP LLP, BCF, Dentons, and Canaccord Genuity invite you to a panel discussion for companies interested in realizing the benefits of a cross-border market presence in Canada and the US.
Topics covered will include CSE and OTC Markets Group's listing standards and processes, market making, and insights on optimizing a US public presence. 
Space limited. Please RSVP 
For further details or questions please email Scott Pritchard at scott.pritchard@thecse.com or by phone at (514) 594 6848
5 a 7 will follow the event
---
La CSE - Bourse des valeurs canadiennes, en partenariat avec OTC Markets Group, MNP LLP, BCF, Dentons et Canaccord Genuity vous invite à une table ronde organisée pour les sociétés souhaitant tirer profit d'une présence sur le marché transfrontalier, au Canada et aux États-Unis.
Les sujets traités incluront les processus et normes d'inscription à la cote et de tenue de marché de la CSE et d'OTC Markets Group, ainsi que des conseils pour optimiser une présence publique aux États-Unis. 
Le nombre de places est limité.
Questions? Contact Scott Pritchard -
scott.pritchard@thecse.com ou par téléphone au (514) 594-6848
Un 5 à 7 suivra l'événement.
---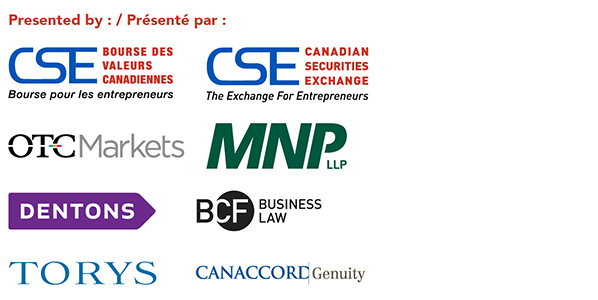 ---
Event FAQ
Who is this event for?
Directors and Officers of public companies, or companies planning to go public. This content will also be useful for IR professionals, brokers, traders, and other capital markets professionals.
What will I learn?
The content covered will include:
CSE listing standards and the process of listing a company on a Canadian stock exchange

OTC Markets overview, quotation standards, and process to get a stock quoted in the US

Legal and accounting considerations of companies seeking a public presence in Canada and the US

Insight into trading dynamics of stocks that are quoted in Canada and the US

Discussion of trends in financing early-stage ventures, both in Canada, and the US 
When & Where

University Club of Montreal
2047 Mansfield Street
Founders & Browne Room
Montreal, QC H3A 1Y7
Canada

Tuesday, 24 February 2015 from 4:00 PM to 7:00 PM (EST)
Add to my calendar
Organizer
The Canadian Securities Exchange is home to more than 500 uniquely listed issues covering a broad range of industry sectors.
The exchange provides trade execution, smart routing, risk management, compliance and market information services for Canadian listed instruments.
Recognized as an exchange by the Ontario Securities Commission in 2004, the CSE is designed to facilitate the capital formation process for public companies through a streamlined approach to company regulation that emphasizes disclosure and the provision of efficient secondary market trading services for investors.
For more information please visit www.thecse.com and our blog at blog.thecse.com.