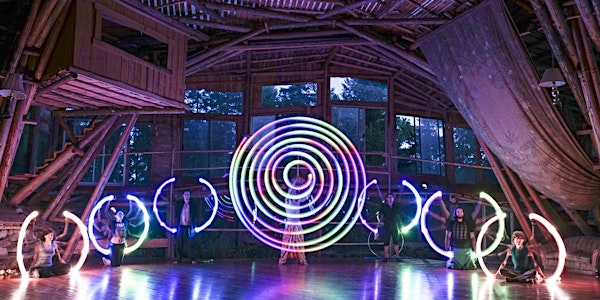 Leviathan Poi Retreat 2018, with Nick Woolsey and Special Guests
When and where
Location
Leviathan Studio Lasqueti Island, BC V0R Canada
Refund Policy
Refunds up to 30 days before event
Description
Join Nick Woolsey and special guests on a beautiful rainforest island for ten days of poi, flow arts, and adventures! Your awesome experience will include:
Diving into advanced poi and flow arts, including dance, rhythm, choreography, and lots of moves!

Endless time to practice and play on the sprung dance floor!

Enjoying the BIG SAUNA

Being blown away by the beauty of Lasqueti Island

Feeling good by eating yummy organic food

Optional climbing of mountains

Co-produced talent show!
Why? To enjoy developing your flow skills, with some of the greatest people you will ever meet!
Prerequisites: For this retreat you need to be comfortable with all the poi basics.
Lodging: Leviathan is RUSTIC. There are no private rooms for accommodation. Most people will bring tents and sleeping bags. There is a room above the sauna with a couple mattresses. There are also a couple great spots for hammocks.
Please note the following:
There are no flush-toilets, just nice outhouses.

There is a rustic, outdoor shower.

The ferry to Lasqueti is for foot-passengers only. If you drive, you will have to leave your car at the French Creek parking lot.

We will pick you up at the ferry terminal on Lasqueti Island.

All the electricity is from solar panels. So charging phones is ok, but no hair-dryers etc.

There is a bar/restaurant with internet in the evenings, a 20-minute walk away.

Lasqueti is remote, off-grid, and a long way to the hospital

Leviathan Studio requires that you sign a disclaimer form and present photo-ID upon arrival.

Leviathan Studio puts a lot of love into the food. Organic meat is served at most meals (fish, chicken, and lamb). Vegan is an option.

Yes, bring other toys! (fire-gear, hoops, levi-wands, juggling balls, slack-lines, etc.).

Bring rain gear in case we get rain, swim suits, hiking boots, bug spray, and anything else that may help you enjoy ten days in a temperate coastal rain-forest paradise. :)
Getting There: Lasqueti Island is 5-8 hours travel from Vancouver, including two beautiful ferry rides (cost is about $38CAD). Make sure to visit their HOW TO GET TO LEVIATHAN page!
Cost:
The Early-Bird price is 990CAD + 5% tax (about 800USD total, including tax). After March 30th the price will be $1100CAD +5%GST
$400CAD deposit via Eventbrite, and the balance due by the first day of the event)