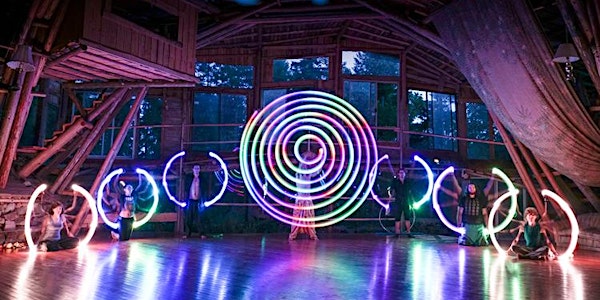 Leviathan Poi Retreat 2019
When and where
Location
Lasqueti Island 123 Sesame Street Lasqueti Island, BC V0R 2J0 Canada
Refund Policy
Refunds up to 30 days before event
Description
The Vision:
June 15-22 and 22-29, 2019: Join Nick Woolsey and special guests on a beautiful rainforest island for two weeks of poi, flow arts, and adventures! Your experience will include:
Diving into advanced poi and flow arts, including dance, rhythm, performance choreography, and moves!
Endless time to practice and play on the huge, sprung dance floor
Enjoying the BIG SAUNA
Being blown away by the beauty of Lasqueti Island
Feeling good by eating yummy organic food
Optional climbing of mountains and jumping into oceans
Co-produced talent show!
Why? To enjoy developing your flow skills, with some of the greatest people you will ever meet!
Where? Leviathan Studio on Lasqueti Island, BC, Canada! (some hours and ferry rides from Vancouver)
Prerequisites: For this event you need to be comfortable with all the poi basics.
Lodging: Leviathan is RUSTIC. There are no private rooms. Most people will bring tents and sleeping bags. There is a room above the sauna with a few mattresses. There are also a couple great spots for hammocks.
Food: Leviathan puts a lot of love into the food! Vegan and vegetarian dishes are served alongside organic meat (wild salmon, chicken raised on the property, and wild lamb or venison). All the food is cooked on a wood-stove. The kale is straight out of the garden :)
Please note the following:
There are no flush-toilets, just nice outhouses.

There is a rustic, outdoor shower, and a pond.

The ferry to Lasqueti is for foot-passengers only. If you drive, you will have to leave your car at the French Creek parking lot.

We will pick you up at the ferry terminal on Lasqueti Island.

All the electricity is from solar panels. So charging phones is ok, but no hair-dryers please.

There is a bar/restaurant with internet, a 20-minute walk away.

Lasqueti is remote, off-grid, and a long way to the hospital.

Leviathan Studio requires that you sign a disclaimer upon arrival.

Yes, bring other toys! (fire-gear, hoops, levi-wands, juggling balls, slack-lines, etc.).

Bring swim suits, hiking boots, bug spray, rain gear just in case it rains, board games, and anything else that may help you enjoy ten days in a temperate coastal rain-forest paradise. :)
Who is this for, and not for? This is for those who love camping and adventure, and who are excited by the idea conditions flirting with primitive (but with amazing food and a sprung dance floor)! If you need a plush bed and hot water on demand, consider Poi Camp at Wild Sun in Costa Rica. It's an equally awesome event and includes optional full-featured luxury rooms! :)
Start and End Times: First meal will be dinner on arrival day. We'll have an opening circle with introductions after dinner. Our first poi class will be the next morning after breakfast. The retreat will finish after breakfast on June 22/29.
Which Week to Attend? The first or both weeks is for anyone comfortable with the poi basics. Attending only the second week is available to those who have attended Playpoi retreats before, or to those who are otherwise sufficiently skilled with Playpoi curriculum (for instance, those who have finished the Beyond-the-Basics online course and have practiced the poi fu, rhythm exercises, and footwork).
Getting There: Lasqueti Island is 5-8 hours travel from Vancouver, including two beautiful ferry rides (cost is about $38CAD). Make sure to visit the HOW TO GET TO LEVIATHAN page!
Summary: It's not just flow training camp, it's an adventure of a lifetime!
COST (including food):
One week: 800CAD +tax (about 625USD)
Two weeks: 1300CAD +tax (about 1000USD)
*Returning participants get $100 off the one-week price and $200 off the two-week price!
**Balance can be paid starting 30 days before the event!