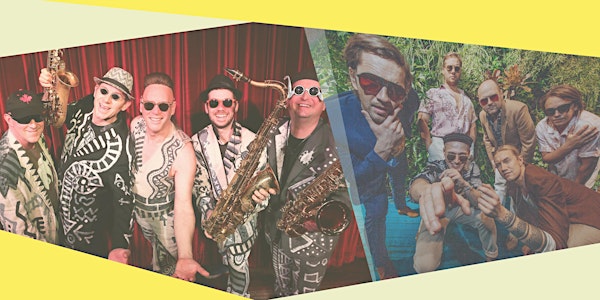 Lexsoul Dancemachine / Shuffle Demons / Vaiko Eplik
YOU'RE INVITED: a booty shakin' toe tappin' dance party with top funk bands Shuffle Demons (Toronto) and Lexsoul Dancemachine (Estonia)
When and where
Location
The Axis Club Theatre 722 College Street Toronto, ON M6G 1C4 Canada
Refund Policy
Contact the organizer to request a refund.
Eventbrite's fee is nonrefundable.
About this event
TICKETS GO ON SALE THIS FRIDAY!
Tartu College (Toronto), student residence and community hub of Estonians in Canada, turned 50 in 2020 and it's finally time to celebrate! There's no better way to mark the occasion than with an all-out dance party, so we called in the experts: Estonia's eminent funksters Lexsoul Dancemachine and Toronto's legendary party-starters the Shuffle Demons. While this is the first ever visit for Lexsoul Dancemachine to Canada, the Shuffle Demons performed their hit Spadina Bus in Estonia in 1991, days before the country was granted its independence. Lexsoul Dancemachine also share a love of public transport, performing atop a moving bus for 3.5 hours in Tallinn. Both bands have a reputation for captivating stage shows all the way down to their matching splashy attire. Estonian singer-songwriter, music historian and artist champion Vaiko Eplik will not only host the evening but will be performing a crash course of Estonian music history both in Canada and at home. Whether you're a regular Estonian community events, or couldn't place it on a map, as long as you like to move your feet - you're invited!
This concert is presented by Tartu College, Estonian Museum Canada / VEMU, and Estonian Music Week, with major funding from Estonian Foundation Canada and sponsored by Northern Birch Credit Union.
LEXSOUL DANCEMACHINE
Raw street funk on one side, with sweet soul on the other—Lexsoul Dancemachine is a 6-man groove band known for tearing venues apart with their stage presence. Active since 2013, the aim of the machine is to hypnotize feel-good music lovers with thumping bass lines, syncopated rhythms, repetitive grooves and soulful vocals. It's the kind of music you can break dance to, although in between those hard-hitting sounds you'll find some more tender grooves.
December 2015 saw Lexsoul Dancemachine self-release their debut album after a successful kick-starter campaign. Deus Lex Machina was put out on vinyl, CD and digitally. 2016 was filled with live gigs in the Baltic-Nordic region, including Tallinn Music Week, Positivus, Funky Elephant and Pori Jazz Festival in Finland.
After making a big local splash with the record, the band broke the international level courtesy of a 5-star review from monkeyboxing.com, an UK blog with an appetite for the Funk. From there on, it was picked up by Craig Charles Funk and Soul Show on BBC 6 and BBC 2 with singles "Beef Grinder" and "Coconuts" on the rotation ever since.
"It's like the Electric Six and Bohannon had a child and it grew up to be Lexsoul Dancemachine." – Flea Market Funk
"In short there's no posturing here, they wanna get into it man, you know – like a…well…like a sex machine. JB would be proud."- monkeyboxing.com
"Hot-blooded, full frontal funk assault not for those of a delicate disposition." – Craig Charles
Artist Links:
THE SHUFFLE DEMONS
The Shuffle Demons first broke onto the Canadian music scene with an electrifying musical fusion that drew in equal measure from Sun Ra, Charles Mingus, Run DMC and the Beastie Boys. The band was one of the first indie acts to break out on MuchMusic. This band was genre bending, highly visually entertaining, funny, and best of all, could really PLAY. All their eye catching, crowd pleasing stunts were backed up by incredibly solid musicianship and real ground-breaking playing.
Over the course of their illustrious career The Shuffle Demons have released ten CDs, two hit videos, won several music awards, done numerous tv and radio appearances and toured nationally and internationally including 25 cross Canada tours, 5 US tours, 17 European tours, as well as tours of The Caribbean, Central and South America, Asia, Australia, New Zealand and Africa playing on big festival stages, theatres and clubs.
The band continues the tradition today with a great line-up of players that includes Juno Award winner Richard Underhill -alto sax & vocals, Kelly Jefferson and Matt Lagan - tenor saxes and vocals, Mike Downes - bass and vocals, and Stich Wynston -drums and vocals. Expect the same exciting, no holds barred performances that feature wild romps in the crowd, free jazz moments, danceable funk, poetry, killer solos and more. We are a crowd pleasing, full on musical group that backs up our stage antics with some phenomenal playing by some of Canada's most talented musicians. We play a mix of jazz, funk, rap, hip-hop and world music, wear spectacular hand painted suits and love to parade through the audience, a perfect festival, theatre or club act.
VAIKO EPLIK
Vaiko Eplik is an independent Estonian pop-composer, producer, singer, multi-instrumentalist and board chair of the Estonian Author's Union. A diverse variety of influences includes artists and composers from Beach Boys to Stevie Wonder and J.S. Bach to Frank Zappa.
Over the course of his two decade musical career, Vaiko Eplik – a songwriter, multi-instrumentalist, producer, music champion and living legend of the current generation of Estonian pop music – has played in groups such as Claire's Birthday, Ruffus, Koer and Mammut, Eliit, released 21 albums, produced music for many other artists and written a couple of thousand songs.