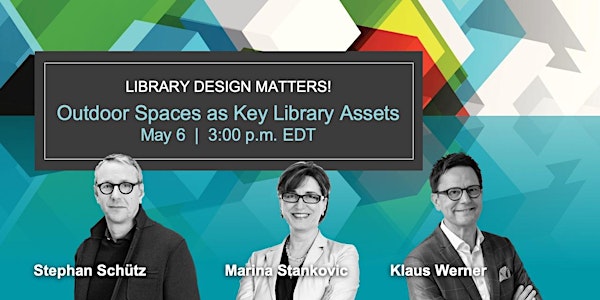 Library Design Matters! Outdoor Spaces as Key Library Assets
Whether your library's outdoor space is urban, rural or part of a new campus setting, outdoor spaces are key library assets. Join us May 6!
About this event
Please click the link below to join the webinar:
Outdoor Spaces are Key Library Assets, the second in our free webinet series, will showcase the exciting work of two leading architects, Marina Stankovic, Architekten BDA and Stephan Schütz, gmp Gerkan, Marg & Partners, in conversation with Klaus Werner, Freie Universitat Berlin. Library projects from Europe and Asia will be presented: a new library building and campus in a biodiverse setting in Laos and a transformed 1970s building in urban Berlin. Register today and watch the 50 minute webinet "live" on May 6th or view event on the IFLA YouTube channel at your leisure. Don't miss this stimulating session.