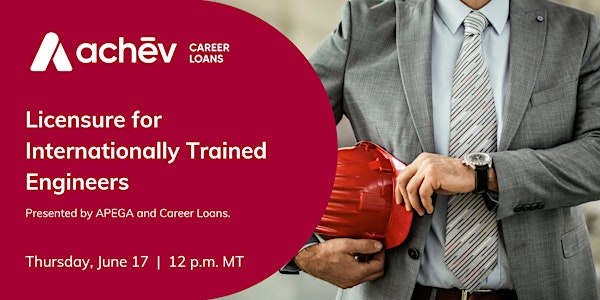 Licensure for Internationally Trained Engineers
A free webinar for internationally trained Engineers!
About this event
Learn about the Engineering and Geoscience Professions Act and how you can meet the licensure requirements of Alberta. Find out how APEGA and Career Loans can support your career goals.
Our Guest Speaker is Enayat Aminzadah, International Qualification Service Officer, the Association of Professional Engineers and Geoscientists of Alberta (APEGA).
Please note that this webinar is intended for internationally trained individuals in Alberta and Saskatchewan.
Career Loans is a virtual program for internationally trained professionals living in Alberta and Saskatchewan. The program helps newcomers continue their career in Canada by providing free online career support services. Eligible clients can also apply for a micro loan of up to $15,000 to help pay for the costs of training and foreign credential recognition. Career Loans is funded by the Government of Canada (ESDC) and coordinated by Achēv.