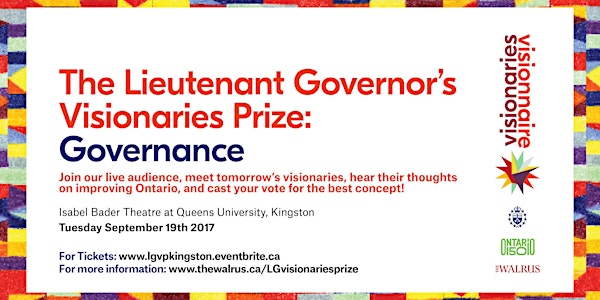 LIEUTENANT GOVERNOR'S VISIONARIES PRIZE_GOVERNANCE / PRIX VISIONNAIRE DU LIEUTENANT-GOUVERNEUR: GOUVERNANCE
Date and time
Tue, Sep 19, 2017 7:00 PM - 9:30 PM EDT
Location
Isabel Bader Centre for the Performing Arts 390 King Street West Kingston, ON K7L3N6 Canada
Description
COME LISTEN, LEARN, and VOTE!
Join our live audience, meet tomorrow's visionaries, hear their thoughts on improving Ontario, and CAST YOUR VOTE for the best GOVERNANCE pitch.
Don't miss our Lieutenant Governor's Visionaries Prize event in KINGSTON, ON on TUESDAY SEPTEMBER 19th 2017 @ ISABEL BADER CENTRE FOR THE PERFORMING ARTS, QUEEN'S UNIVERSITY.
DOORS OPEN @ 6:30 P.M. / SHOW @ 7 P.M. / RECEPTION @ 8:15 P.M.
The Walrus Foundation, the Honourable Elizabeth Dowdeswell, and the office
of the Lieutenant Governor of Ontario present THE LIEUTENANT GOVERNOR'S VISIONARIES PRIZE. Innovative thinkers across Ontario will present their solutions to the challenges facing Ontarians and Canadians over the next fifty years, from environmental pressures to the future of governance in the twenty-first century.
The Lieutenant Governor's Visionaries Prize challenged Ontarians aged eighteen and over to present their ideas in a short essay and/or video. Following the close of submissions in March 2017, thirty-six finalists were identified in six categories. All thirty-six finalists will publicly defend their policy solutions before a live audience during moderated sessions held across Ontario in fall 2017. The six winners will formally receive the Lieutenant Governor's Visionaries Prize in October 2017.
RECONCILIATION: Thunder Bay, September 13, 2017

GOVERNANCE: Kingston, September 19, 2017
INCLUSIVE PROSPERITY: Windsor, September 21, 2017
ENVIRONMENTAL STEWARDSHIP: Waterloo, September 26, 2017
SOCIAL COHESION: Brampton, September 28, 2017
SCIENTIFIC AND TECHNOLOGICAL INNOVATION: Toronto, October 2
Complete information about the Lieutenant Governor's Visionaries Prize is available at thewalrus.ca/LGvisionariesprize.
The Lieutenant Governor's Visionaries Prize is managed by the Walrus Foundation in partnership with the office of the Lieutenant Governor of Ontario. It is supported by the Ontario Government through its Ontario150 program as part of Canada's sesquicentennial celebrations.
VENEZ ÉCOUTER, APPRENDRE ET VOTER
Joignez-vous à nous, rencontrez les visionnaires de demain, écoutez
leurs idées pour améliorer l'Ontario et VOTEZ pour la présentation la
plus innovatrice en matière de GOUVERNANCE.
Ne manquez pas l'événement final du prix Visionnaire du lieutenant-
gouverneur à KINGSTON le mardi 19 septembre 2017 au Théâtre
Isabel Bader, sur le campus de l'Université Queen's.
OUVERTURE DES PORTES À 18H30 /SPECTACLE À 19H /
RÉCEPTION À 20H15
La Fondation Walrus, l'honorable Elizabeth Dowdeswell et le Bureau de
la lieutenante-gouverneure de l'Ontario présentent LE PRIX
VISIONNAIRE DU LIEUTENANT-GOUVERNEUR. Des penseurs
créatifs de tout l'Ontario dévoileront leurs solutions aux défis qui
attendent les Ontariens au cours des cinquante prochaines années,
qu'il s'agisse des pressions environnementales ou du futur de la
gouvernance au XXIe siècle.
Le prix Visionnaire du lieutenant-gouverneur a mis au défi les Ontariens
âgés de 18 ans et plus de présenter leurs idées dans un court essai
et/ou une vidéo. Après la fermeture du concours, en mars 2017, trente-
six finalistes ont été désignés dans six catégories. Les trente-six
finalistes défendront leurs solutions de politique publique devant un
auditoire et des modérateurs lors de sessions tenues à travers
l'Ontario à l'automne 2017. Les six gagnants recevront officiellement
le prix Visionnaire du lieutenant-gouverneur en octobre 2017.
RÉCONCILIATION : Thunder Bay, 13 septembre 2017
GOUVERNANCE : Kingston, 19 septembre 2017
PROSPÉRITÉ INCLUSIVE: Windsor, 21 septembre 2017
INTENDANCE DE L'ENVIRONNEMENT :Waterloo, 26 septembre 2017
COHÉSION SOCIALE : Brampton, 28 septembre 2017
INNOVATION SCIENTIFIQUE ET TECHNOLOGIQUE : Toronto, 2
octobre 2017.
Les informations complètes sur le prix Visionnaire du lieutenant-
gouverneur sont disponibles à thewalrus.ca/LGvisionariesprize.
Le Prix Visionnaire du lieutenant-gouverneur est géré par la Fondation
Walrus, en partenariat avec le Bureau de la lieutenante-gouverneure de
l'Ontario. Il est soutenu par le gouvernement de l'Ontario grâce au
programme Ontario150, lié aux célébrations du cent-cinquantième
anniversaire du Canada.