Life 3.0: Protirement NOT Retirement: Learn how to plan your retirement lif...
Description
WHAT MAKES
LIFE 3.0
SO
DIFFERENT?
People are living 20 or more years after they retire. As a result, Boomers have reinvented the retirement concept. The Life 3.0: Retirement Lifestyle Planning Workshop helps Boomers, whether they are mid-career, five years from retiring, on the verge of retiring or recently retired, develop vibrant post-retirement lifestyle plans.
We know how difficult it is to plan for your post-retirement life; but we also know how important it is to begin doing so BEFORE you retire. Whether you are 40, 50 or 60 years old, Baby Boomers interviewed for Life 3.0 said lifestyle changes made while you are working will help you ease into an enjoyable and rewardig retirement. Based on advice from 100 retired Boomers, from all walks of life, the Life 3.0 Workshop will help you:
1. Learn how to change your lifestyle, while you are working, to enhance your retirement years;
2. Learn the difference between Retirement and Protirement;
3. Learn how to apply the Protirement 3-Stages Framework to enhance your Protirement Planning process;
4. Use this Framework, developed from advice given by 100 retired individuals, to create a vibrant post-retirement lifestyle; and
5. Apply this framework to develop your personalized Protirement Checkerboard.
We are living in a unique century. Retirement is no longer a destination for Boomers; It is only the first stage in moving toward the third chapter of their lives, which is now being called Protirement. Register for the Life 3.0 Workshop today! Why? Because you won't know how important it is to begin planning for your post-retirement, or retirement, during your work life until you hear the advice from 100 retired people, from all walks of life, who have already experienced the transition into the third chapter of their lives.
WHO SHOULD ATTEND?
Do you want to learn how to change your life now to improve your post-retirement life ? If you are in any of the following groups, the Life 3.0 Workshop is for you…..
Mid-Career;

5 years from retirement;

On the verge of retirement;

Recently retired;

Financial Planners;

Human Resources Specialists;

Employers; or

Union Officials.
What's your investment?
To celebrate the publication of Life 3.0 we are offering the Life 3.0 Workshop at a special price of $99.00.
What attendee's will recieve:
Registration includes a free, signed copy Life 3.0.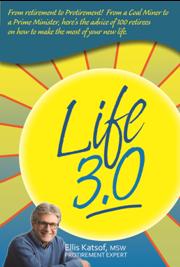 Register today, as space is limited!
Date and Time
Location
Holiday Inn & Suites Parkway Conference Centre
327 Ontario St
St. Catharines, ON L2R 5L3
Canada