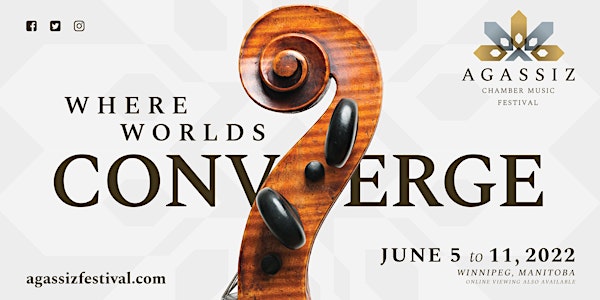 "Life, Death, the Maiden, & the Afterlife" June 7 Agassiz Online Festival
Refund policy
Contact the organizer to request a refund.
Eventbrite's fee is nonrefundable.
Life, Death, the Maiden, and the Afterlife
About this event
Mozart - Quartet for Oboe and Strings
Schubert - Allegro from "Death and the Maiden" String Quartet
Dinuk Wijeratne - A Letter from the Afterlife, for string quartet
Beethoven - "Archduke" Piano Trio
Mozart's Oboe Quartet was written at the height of Mozart's powers and is full of the joy of life. In it we feature the gifted Saskatchewan oboist and UOttawa student, Glenda Lindgren. Schubert's "Death and the Maiden" string quartet was composed in 1824, after the composer suffered a serious illness and realized that he was dying. This work, described as "one of the pillars of classical music" in turn inspired Sri Lankan-Canadian composer, Dinuk Wijeratne to write some "pop'-influenced music for a Classical string quartet", based on an antique poem. Contained in 'A Letter from the After-life' are two quotes from Schubert's Death & the Maiden quartet. Wijeratne writes "Ironically, they struck me as being Pop-like and so I allowed them to emerge as though improvised; then to be improvised upon." This work was the Winner of the 2016 JUNO & ECMA: 'Classical Composition of the Year'. The "Archduke" Trio by Beethoven, dedicated to Beethoven's patron and friend, the Archduke Rudolph of Austria, his last, was written when Beethoven was already fundamentally deaf, at a time when perhaps Beethoven felt that he was living a sort of afterlife. Yet it is regarded as one of the greatest works he ever wrote.