Life During COVID-19 - Cheat Codes for Living your Best Life
About this Event
The COVID-19 pandemic continues to present unprecedented reality and adapting to this "new normal" can be extremely difficult for all of us. Mind by Design is excited to offer our second FREE 8-week webinar series, inspired by this pandemic. The goal of this series is to provide free, easily accessible information from experts on topics inspired by this unprecedented time of pandemic. Four mental health professionals (Neeha Perani, Lisa Bynoe-Stevens, James Lam, and Patrizia Zonta) will provide a series of psychotherapy-based workshops aiming to help us navigate our "new normal" and the physical and/or mental health challenges it has created or exacerbated. There will be a 45 minute to 1 hour webinar each week, starting on Wednesday, October 14th, 2020 at 7:00 pm. The weekly schedule of topics are (1) Helping Kids with Anxiety, (2) Self-Worth and Law of Attraction, (3) Keeping Your Love Alive, (4) Parenting, (5) Professional Women and Stress, (6) Forgiving injuries, (7) Self-Esteem for Girls, and (8) Worry and the Fear of the Unknown.
Disclaimer: All webinars provided by Mind by Design, along with all workshop materials, are strictly for educational purposes only and cannot be categorized as psychological or mental health services.
IMPORTANT: Make sure to check your junk and/or promotion mail if you are not receiving our weekly instructional emails.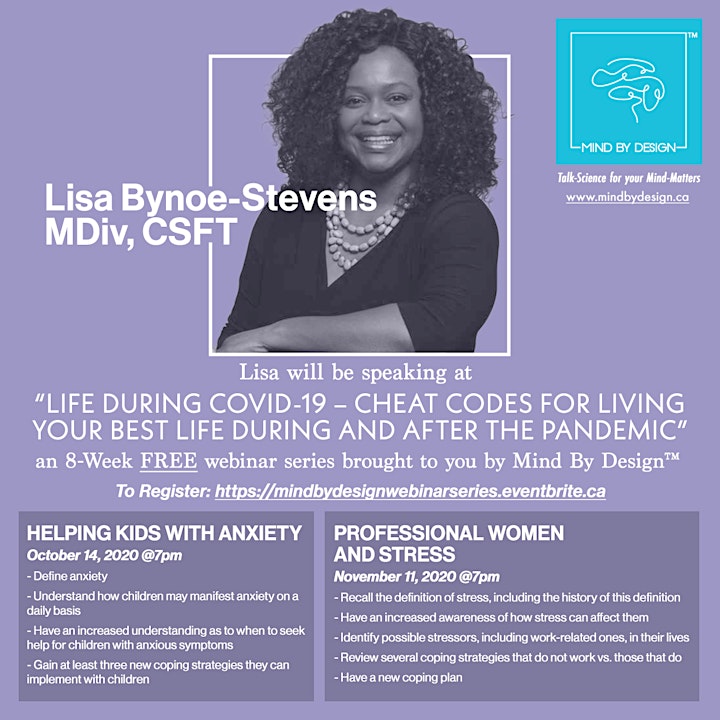 Lisa Bynoe-Stevens is a Certified Solution-Focused Therapist, MDiv. Counselling.
Ever since a young age Lisa Bynoe-Stevens has had the ability and interest to help people in positive ways. As a result, almost 30 years ago she decided to become a therapist, focusing on helping children, adolescents, and their families.
Lisa Bynoe-Stevens' work begun in the 90s in the social work field until it transitioned more into Play Therapy, a form of therapy that helps kids in the form of play. To do this, she attended training courses in both the USA and Canada, learning from prominent leaders in the field. By 2005, Lisa Bynoe-Stevens had completed a Master's in Divinity in Counselling at Tyndale University College and Seminary, where she expanded her counselling training to include working with adults, couples, and families. Eventually, this was further augmented with couple and family therapy courses at the University of Guelph's continuing education department.
At this point in Lisa Bynoe-Stevens' career, she has worked with many different presenting issues. Even though her first loves are issues with the younger generations and couples, she has grown to be well-versed in working with those struggling with issues surrounding young adulthood, workplace, addictions, depression, and anxiety. In other words, if you need a listening ear for whatever you are trying to sort out, whoever you are, no matter your age and who you are with, she will try her best to be present and walk with you as you, hopefully, gain clarity and a sense of yourself again.
Neeha Perani has a master's in counselling psychology, with many years of experience.
During Neeha Perani's career, she has been able to work within the community and reputed schools, which has allowed her to experience a broad range of issues including; anxiety, family and relationship difficulties, stress, career planning, self-confidence, and academic difficulty.
Neeha Perani is currently in the process of getting registered with the College of Registered Psychotherapists of Ontario and she has been a great team member at Mind by DesignTM. She aims to maintain an integrative approach to psychotherapy by utilizing a range of different therapy models. Ultimately, she works from a client-centred framework to offer a supportive and safe space for every client.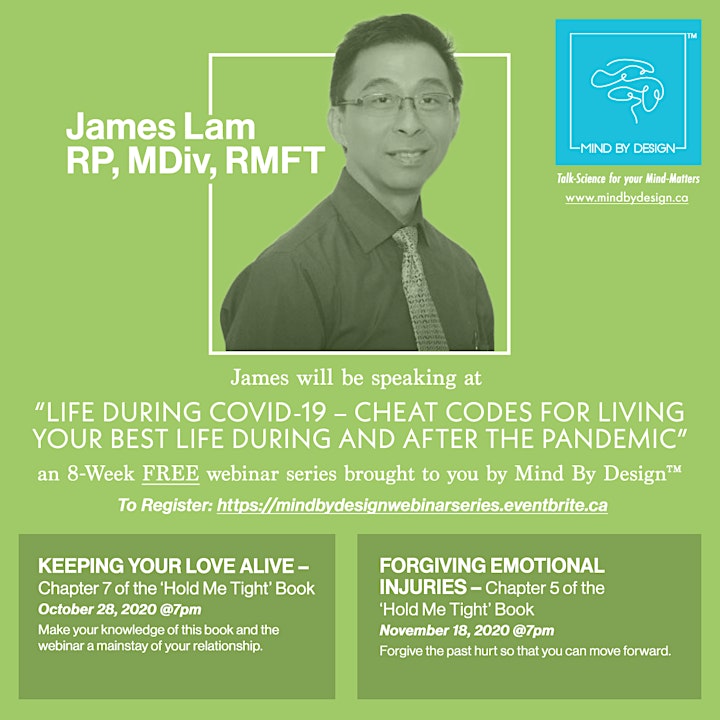 James Lam is passionate about building relationships and helping people navigate life's journey. His warm, open, holistic, and collaborative approach is client-centred, which seeks to unleash one's strengths and potentials. He has been practicing psychotherapy for more than eight years, working with people on issues including but not limited to anxiety, depression, grief/loss, relationships, life transitions, and trauma/abuse. He has extensive experience in Cognitive Behavioral Therapy, Emotionally Focused Therapy, and Acceptance and Commitment therapy. James has a diverse background in healthcare, corporate leadership, mentoring, and coaching. He enjoys working with individuals, couples, and families. His desire is for you to live to your full potential and to thrive in meaningful relationships.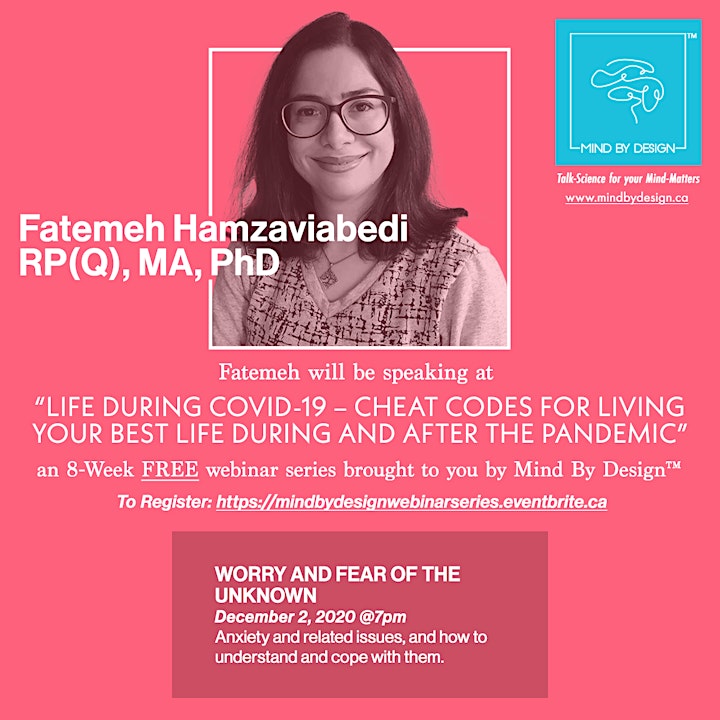 Passionate to understand and help, Fatemeh Hamzaviabedi is a Registered Psychotherapist-Qualifying (RP-Q). Before moving to Canada, she has worked for 8 years as a psychotherapist, providing a diverse populations of adults and families with client-centered therapy. She uses multiple approaches, including brief Psychodynamic, Cognitive-Behavioural (CBT), and Mindfulness-Based therapies, to offer every person what can work best for them and promote change and growth. Fatemeh has a Ph.D, in Psychology. Besides working as a therapist, she has extensive teaching experience as a university lecturer. She has developed and facilitated more than 10 workshops for general population and also those who are dealing with a specific issue such as social anxiety or intimate relationship problems. In her free time, she loves to take long walks in nature or drown herself in reading alternately fantasy novels or philosophical essays.