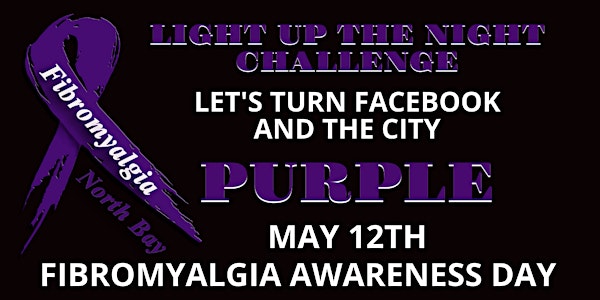 Light Up the Night Challenge
When and where
Location
North Bay North Bay, ON Canada
Description
Fibromyalgia (FM) & Myalgic Encephalomyelitis/Chronic Fatigue Syndrome (ME/CFS) International Awareness Day is May 12th of each year, but it needs to be recognized by us all year round. It isn't just one day that we want awareness, it's every day, because every day we deal with chronic pain.

Join Fibromyalgia North Bay (FMNB) for our first "Light Up the Night Challenge" on May 12th.

The challenge is to get as many public buildings/places/structures, businesses and private residences as possible, in North Bay and area, to light up PURPLE on May 12th.

We also invite you to Light Up Facebook - your personal pofile, group and/or business page.

You are encourage to show your support by wearing purple, whether that's a t-shirt, a hat or even a bracelet to use to initiate a conversation about fibromyalgia.

Awareness should be every day!!

By lighting up PURPLE, you will show your support, love and care for those living with these invisible and debilitating chronic conditions, as well as family and friends who are affected.

Don't forget to share the event with your family, friends, coworkers, etc...

You are invited to like our FB page and share photos of the challenge.