Lighting the Fire Under Your Butt: 5 Steps to Ignite Your Fall Goals [Free...
Description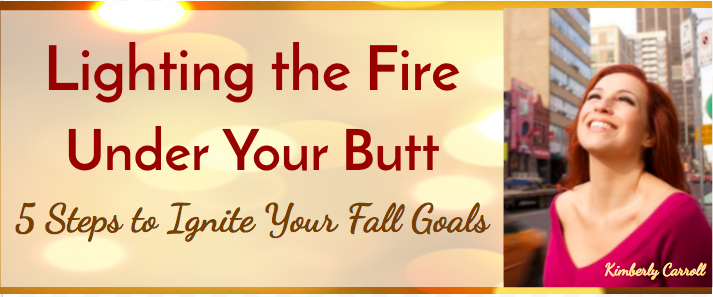 The kids are back to school and it's time for you to get back to your dreams! Maybe you yearn to...
★ take your business to the next level
★ find a romantic relationship
★ cultivate more serenity, joy, or passion in your life
★ launch that special project
★ ramp up your health and fitness
In this fun, virtual interactive workshop, Body/Mind/Spirit Coach Kimberly Carroll will take you through a powerful, innovative, and spirited 5-step process to energize your top goal for the fall, clear the nasty blocks getting in the way, and take immediate action to bring it to fruition. You'll leave this webinar not only laser-focused and pumped, but with a practical game-plan in hand.
*There will be some offers only available on the live call that you won't want to miss.
Kimberly Carroll is a Body/Mind/Spirit Coach, television host/producer, & activist whose specialty is helping folks connect to their center, ignite their lives, and transform the world around them. With a cheeky and down-to-earth approach, Kimberly is an entertaining and loving guide for people delving into the world of personal growth and conscious living. Her LIFE REBOOT PROGRAM (7 weeks to tune in, power up, & create the life and world you love!) runs in-person in Toronto or long distance via her Online/Tele-Program. She also does private coaching in-person or long distance.
For more about Kimberly, visit: www.KimberlyCarroll.com