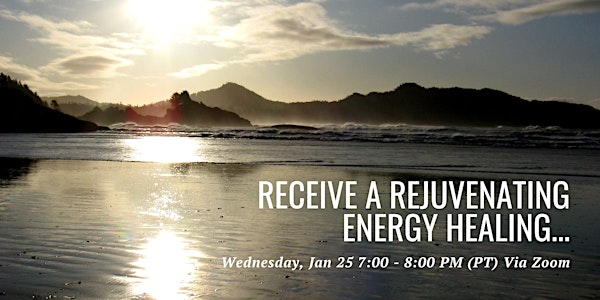 Lightwork Pop-Up Healing Space
Receive a free 15-minute energy healing.
About this event
Ease into the new year with an energy healing!
Pop by this supportive and rejuvenating online event...and consider inviting a friend! Drop in anytime between 7pm and 8pm PT to receive a free 15-minute energy healing from an experienced energy healer.
Wednesday, January 25
7:00 pm - 8:00 pm (Pacific Time/ Vancouver)
This live, online session is a great opportunity to experience Lightwork energy healing.
Lightwork energy healers are trained to help you gently revitalize your energy system -- cleansing your aura, chakras and energy channels. Just sit back and relax as an energy healer soothes your system. Please know that energy healings are just as powerful when offered online as they are in-person.
If all of this is new to you or you have questions - please bring your curiosity to this event. It's a great opportunity to learn about energy healing and Lightwork meditation.
The event is via Zoom web video (you don't need a Zoom account). Please have your Zoom video turned on for this live community event -- just ask for help when you arrive if you're new to Zoom.
Upon registering, you will receive an email with the login details.
About Lightwork
Lightwork offers meditation and energy healing classes and services to people who are seeking new ways to take care of themselves.
Most people discover Lightwork through the Lightwork Level 1 meditation series, which presents a powerful set of techniques for managing your energy, stress and emotions.
Lightwork has been helping people make their lives brighter since 1996. Classes and services are available online.
For more info about Lightwork, visit lightwork.ca
General Consent
By registering for this event, you agree to Lightwork's General Consent terms.