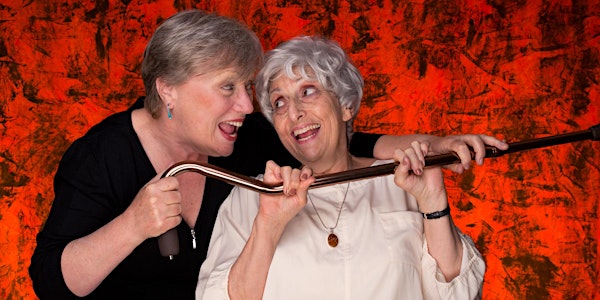 Like A Fly In Amber: Vancouver Premiere
When and where
Location
Sheraton Vancouver Wall Centre 1088 Burrard Street Vancouver, BC V6Z 2R9 Canada
Refund Policy
Refunds up to 7 days before event
Description
By special arrangement – direct from the Fringe Festival in Toronto – the Canadian Association on Gerontology is pleased to announce the premiere performance in Vancouver of "Like a Fly in Amber" as part of the CAG2018 conference!
Returning to the family home the night before her mother's funeral, 64-year-old IRIS discovers that fiercely independent GRACE may have hastened her own demise – accidentally, through stubborn, irrational decisions. IRIS reviews the final chapter of their relationship, to make sense of GRACE's kooky self-sufficiency, and find closure.
IRIS and GRACE butt heads over independent living, health regimes and their need to connect before it's too late. Caregivers who have struggled to coax aging parents into accepting help and taking their medicine will relate to the rap-style argument of "Pills, Pills, Pills" and the tongue-in-cheek music hall number, "Ain't It Great to Be Senile".
It's not all a battle. The show contains poignant moments when both women long for a relationship that's just out of reach. IRIS wants to protect her mother; GRACE just wants to spend time together. The ending is inevitable; the final words are a bonus.
For more information, please visit the performance website: https://www.flyinamber.com/
---
Par arrangement spécial – en direct du Fringe Festival de Toronto – l'ACG2018 a le plaisir d'annoncer la présentation de la première de la comédie musicale Like a Fly in Amber (Comme une mouche préservée dans l'ambre) à Vancouver !
Ce spectacle est présenté en anglais seulement.
Rentrant au domicile familial la veille des funérailles de sa mère, IRIS, 64 ans, découvre que GRACE, farouchement indépendante, pourrait avoir hâté sa propre disparition – de façon accidentelle – pour avoir pris obstinément des décisions irrationnelles. IRIS passe en revue le dernier chapitre de leur relation pour trouver un sens à la folle autosuffisance de GRACE et pour tourner la page.

IRIS et GRACE se disputaient régulièrement à propos de l'autonomie, des régimes de protection et de leur besoin de communiquer avant qu'il ne soit trop tard. Les aidants qui ont eu du mal à persuader leurs vieux parents d'accepter de l'aide et de prendre leurs médicaments reconnaîtront les arguments du genre « des pilules, des pilules, toujours des pilules ! » et l'air sarcastique « Ain't It Great to Be Senile ! (C'est pas génial d'être sénile ! ».

Il ne s'agit pas du tout d'un conflit. On trouve dans ce spectacle des moments poignants où les deux femmes aimeraient avoir une relation qui est hors de leur portée. IRIS veut protéger sa mère; GRACE veut simplement qu'elles passent du temps ensemble. La fin est inévitable; leurs dernières paroles sont du bonbon.
Plus d'info : https://www.flyinamber.com/