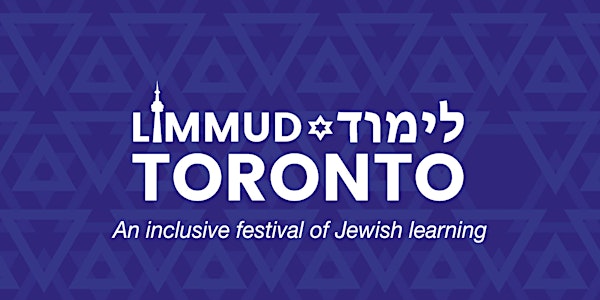 Limmud Toronto 2023
A festival of Jewish thinking, culture, and arts, bringing people of all backgrounds together to experience and celebrate Jewish ideas.
Date and time
Sun, Apr 30, 2023 8:30 AM - 6:30 PM EDT
Location
Faculty of Law - University of Toronto 78 Queens Park Toronto, ON M5S 2C5 Canada
About this event
Limmud Toronto returns! Join us for an in-person, interdisciplinary festival featuring over 40 speakers, authors, entertainers, innovators, amateurs, experts, and mavens of all kind. Limmud Toronto is a day of discussion and exploration including live entertainment, programs for children and learners of all ages, a marketplace, and a delicious catered lunch (included with your ticket).
Participants and presenters are invited to come together at the University of Toronto faculty of Law (78 Queen's Park), or, if you prefer to attend remotely, all sessions will be streamed live on Zoom -- select "Online Only" when you purchase your ticket.
Learn more at Limmud Toronto.
Frequently asked questions
What health and safety protocols will be in place?
I would like to volunteer. How can I help?
About the organizer
The Limmud Festival is a hub for Jewish learning, discovery, community, empowerment, diversity, debate and creativity. It's the place for you to discover something new, and take one more step along your Jewish journey.
Limmud is a global movement hosting festivals in over 90 communities in 44 countries worldwide. Bringing a local heartbeat to an international movement, Limmud Toronto is a one-of-a-kind festival of ideas, culture and the arts, inspiring people of all ages, interests, backgrounds, and lifestyles to experience the rich diversity of Jewish heritage. Limmud Toronto is a forum for connecting Jewishly with your self, your interests, your local community, and to people around the world. Learn more, at Limmud Toronto.
We bring together over 60 passionate presenters to feed your curiosity, deepen your understanding and challenge your opinions. Limmud promises a day of exploration and engagement for everyone.
*Experience live Jewish learning  *Learn about diverse and emerging issues  *Challenge personal opinions *Connect to a larger movement. 
Think globally, attend locally.
Full schedule of presenters and sessions will be released soon.
All other info: Limmud.ca