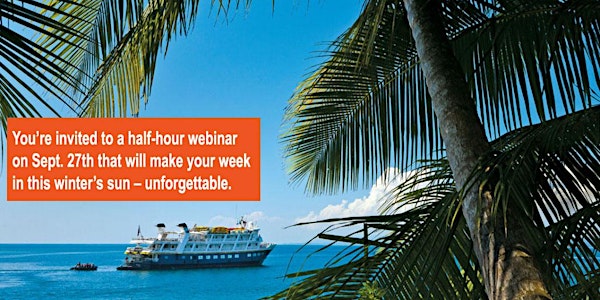 Lindblad Expeditions
Panama and Costa Rica January 22 - 29 Cruise
About this event
From January 22 to 29, 2023, Jean and I are taking friends on board the National Geographic Quest, a 100-passenger ship that will lead us through the Panama Canal and up the west coast of Costa Rica.
We'll be on a Lindblad Expedition, whom Condé Nast Traveler declared the #1 Small Ship Cruise Line in the World.
Here's the trip in detail and a short video here.
For more details, we invite you to join us for a 30-minute webinar from 5:30 to 6:00 p.m. ET on Tuesday, September 27th.
Our guest experts are:
Ted Kenefick, the head of Lindblad's Baja and Central America expeditions, and accomplished wildlife photographer and ecotourism expert.
Karen Kuttner-Dimity, Lindblad's head of affinity and charter operations.
Ted and Karen will delve into what we'll see, share and enjoy, and answer any questions you have.
Reserve your berth in our webinar here and please join us on the 27th.
It may not be 30 minutes that saved the world. But it could be 30 minutes that saved your winter.
Cheers and if thinking about this trip makes you excited, imagine actually doing it.
Bob Ramsay
Ramsay Inc.