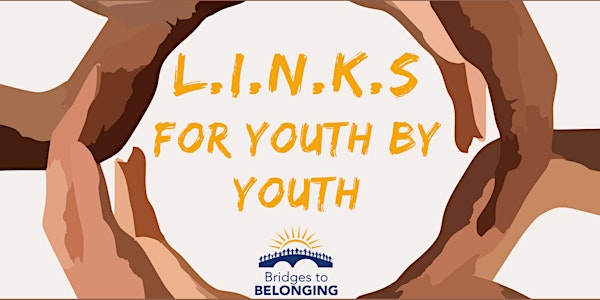 LINKS-Virtual Experience for Youth-Create a Network of Supportive Relations
5 Weeks of self-discovery and making connections to reduce isolation, build resilience and experience belonging for Youth ages14-24.
About this event
What is LINKS?
LINKS is an initiative offered by Bridges to Belonging to empower youth supported by family and kin to build a network of meaningful, supportive relationships and community connections that reduce social isolation and builds resilience to overcome barriers to inclusion.
Who can attend?
Youth, aged 14-24, who must attend with 1-2 other significant people they choose (such as parent/guardian, sibling, other relative/extended family member, friend, neighbor, teacher, coach or other community member) are invited to embark on a journey of self-discovery, personal growth, and community connection as part of a 5-week virtual workshop.
Sessions are open to young people of all abilities, between the ages of 14 to 24, and who self identify as having a disability, dual diagnosis or experiencing social isolation and/or other barriers to inclusion.
How will LINKS be delivered?
The 5 workshops will be held virtually using ZOOM. All participants will need to have access to ZOOM, ideally on a computer or laptop or Chromebook. You will need
• A good/stable internet connection
• Speakers and a microphone
• A built in webcam on your laptop, tablet or computer or an external HD webcam
Registration, Dates and Times - Please note, ADVANCED REGISTRATION is required.
THURSDAYS from 6:45 – 8:45pm Nov. 12 - Dec. 10
(Thursday November 12, 2020 6:45pm-8:45pm; Thursday November 19 , 2020 6:45pm-8:45pm; Thursday November 26 , 2020 6:45pm-8:45pm; Thursday December 3, 2020 6:45pm-8:45pm; Thursday December 10, 2020 6:45pm-8:45pm)
To complete your registration, please fill out the form here: https://forms.gle/QKYPYApuv6BEwXhD7
For more information or if you have any questions, please call 519-603-0998 or email info@bridgestobelonging.ca