In this dance workshop we'll explore the world beneath our thinking mind and discover movement tools and inspiration to apply in daily life.
About this event
LISTEN
A 5Rhythms Movement Workshop with Anne Marie Hogya
So often we ignore, discount, override
the messages from our 'gut'- our wisdom, our internal knowing.
Instead, many of us live in our heads:
polite and obliging, freezing and resisting
the pipeline to our inner truth
and at risk for confusion, frustration and, even, danger.
Attending to our instincts - the intuition of our body - takes skill and practice.
Listening to our body intelligence can:
save us, and move us toward opportunity,
freedom, possibility and transformation.
LISTEN.
This workshop is for anyone who wants to explore their own inner wisdom, no experience required. The movement tools, techniques and inspiration you learn here can be immediately applied to daily life. Designed for adults of every age and ability.
Please note: For the safety of participants and staff, we will be following all of the Provincial health guidelines and all workshop participants will need to be vaccinated with two COVID-19 vaccines to participate in the workshop. Masks will be required in common areas. Sessions will be held indoors but participants who prefer to dance outdoors (with headphones) will be accommodated.
Time: Friday 7:00 - 9:00pm | Saturday 12:00 - 5:00pm | Sunday 12:00 - 5:00pm|
Location: Victoria Shambhala Meditation Centre | 2033 Belmont Ave| Victoria, BC|
Tuition: $365 (CAD) after
Registration: Eventbrite or email transfers accepted at annemarie@annemariehogya.com.
Cancellation Policy: Refunds are available until December 1, 2021 (less a $50 administrative fee). Workshop registration may be transferred to an alternate participant. In the event a workshop is cancelled by the producer, registration fees will be funded in full to participants.
Anne Marie Hogya has a fierce commitment to truth-seeking and a deep desire to create workshops that blend the practical with the wildly creative. She is known for her no-nonsense approach, humour, and compassion. As an occupational therapist with a Master's degree in Leadership, she's an innovator in the mental health and trauma space. Anne Marie studied and trained with 5Rhythms founder Gabrielle Roth and has been teaching movement for two decades. She lives in Victoria, Canada, and teaches at home and internationally.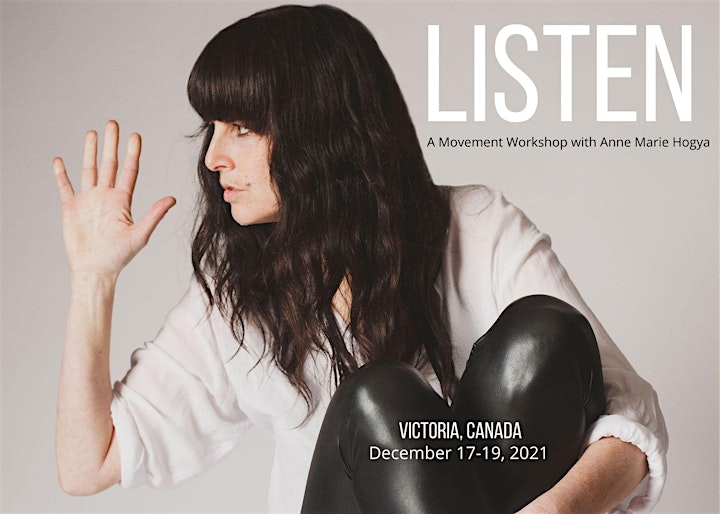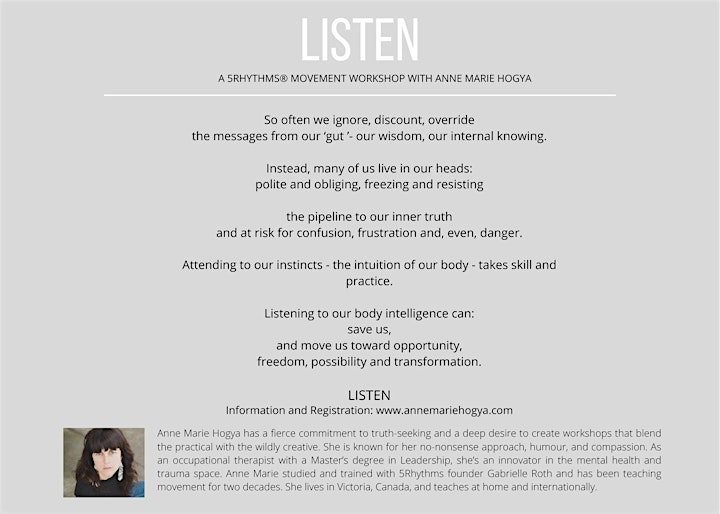 Organizer of LISTEN - An innovative movement workshop with Anne Marie Hogya