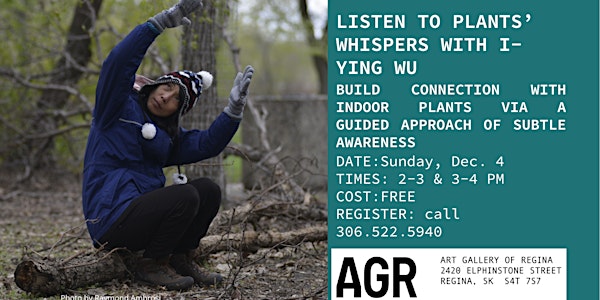 Listen to Plants' Whispers with I-Ying Wu
Somatic practioner I-Ying Wu guides participants through mindful movement responding to plants in the exhibition We Are All Electric Beings
When and where
Location
The Art Gallery of Regina 2420 Elphinstone Street Regina, SK S4T 7S7 Canada
About this event
Listen to Plants' Whispers with I-Ying Wu
Participants will learn how to build connection with indoor plants via a guided approach of subtle awareness. Rather than thinking of what we want to do with plants, we will soften our heart, body and mind to listen to plants' whispers and what the plants invite us to do with them revealed through ambience of space, sensation, imagery, disposition, and a felt sense of being.
Meanwhile we will reflect on our response to plants through mindful movement and narratives. Participants are encouraged to take the experience of subtle awareness nurtured during this workshop back to everyday life, and to outdoor natural environments as well.
While the gallery space has plants that we can use during the workshop, you are welcome to bring your own plants too!
About the instructor:
I-Ying Wu is a somatic and improvisation practitioner, artist and researcher, who works closely with international artistic and academic circles in Taiwan, UK, and Canada. Informed by Contact Improvisation, Chinese traditional qigong, martial arts, and Daoist philosophy, I-Ying's practice focuses on subtle awareness of the very moment when an improvisational phenomenon emerges. She began applying her practice approach to natural environments in spring 2022 with an outdoor improvisation workshop called Dancing with Nature.
DATE: Sunday, December 4, 2022
TIMES: 2:00 - 3:00 PM & 3:00 - 4:00 PM
COST: free