Featuring the story of Elisa Hategan: How I became a Neo-Nazi, found my Jewish roots and shut down the Heritage Front. Donations welcome.
About this event
The Spirit of Canada Dialogue Project holds a space once a month called 'Listening Beyond Division'. We explore difficult topics in the Canadian context, with open hearts. We are curious about what breaks our hearts and what breaks us open to healing and to expanded possibilities.
What will happen on January 13th?
In a recent Listening Beyond Division call about Dominance, Elisa Hategan joined us and briefly shared her inspiring story of how dominance played out in her life as an immigrant to Canada from Romania. Only a small group of us got to experience this inspiring and insightful moment. We want to bring Elisa's story to all of us, as we explore what it means to live in a world where people are sometimes purposefully divided by hate, often using love as a mechanism!! We are exploring how each of us can be a force for Unity that respects diversity. We believe listening beyond division is a key to healthy progress on the complex issues we face as all of humanity.
Elisa Hategan is a writer, speaker, educator on far-right extremism and founder of the Changemaker Project. Recruited as a teenager to the dangerous Canadian white supremacist group the Heritage Front, Elisa's powerful court testimony against Front leaders led to the group's collapse. The author of the 2014 memoir Race Traitor, her life inspired the 1998 CBC film White Lies. Elisa has written articles for Maclean's Magazine, Global News, Now Magazine and Canadian Jewish News, and has been interviewed by CBC, CTV, BBC, Global News, Canadaland, Newsweek Magazine, Times UK, and other North American and UK-based media. She has been a keynote speaker for community groups, synagogues, high schools and universities in North America, Europe and New Zealand.
There is a $10 suggested donation for this event which will help us grow as a project to have a greater impact on the world, and offer honorariums to professional speakers and cover operating expenses.
We honour Elisa for stepping up to tell her story during this call and Spirit of Canada core team members, namely Richard, Kara and Pamela are providing facilitation support.
For future calls, we invite any of our members and participants to bring your story or taboo topic you are grappling with in your community to the centre of this supportive space! We would like a different leader every month, but you will always be supported by the core team as much as you need.
--------------------------------------------------------------------------
Elisa will share her story for about 30 mins and then we will have 45 mins to reflect back and explore together in a Bohm Dialogue format.
Through a process called Bohmian Dialogue, we will explore our relationship to the patterns of "unity" and "diversity" in our lives. How can deep listening affect the complex issues that we face? Relating to each other in our virtual circle, we will each practice suspending judgement, respecting each other, voicing what has heart and meaning, and listening deeply to the wisdom arising from our experience. We will hold the space for each other to learn, let go, be surprised, evolve and grow. And, you will experience Bohmian Dialogue, a powerful group process that goes beyond typical conversation, discussion, negotiation, or debate, to get to the truth and heart of what matters most... a process that you may wish to host in your own community.
Dialogue, as David Bohm envisioned it, is a radically new approach to group interaction, with an emphasis on listening and observation, while suspending the culturally conditioned judgments and impulses that we all have. This unique and creative form of dialogue is necessary and urgent if humanity is to generate a coherent culture that will allow for its continued survival.
The following diagram is courtesy of John Ruffin of Boulder Dialogue.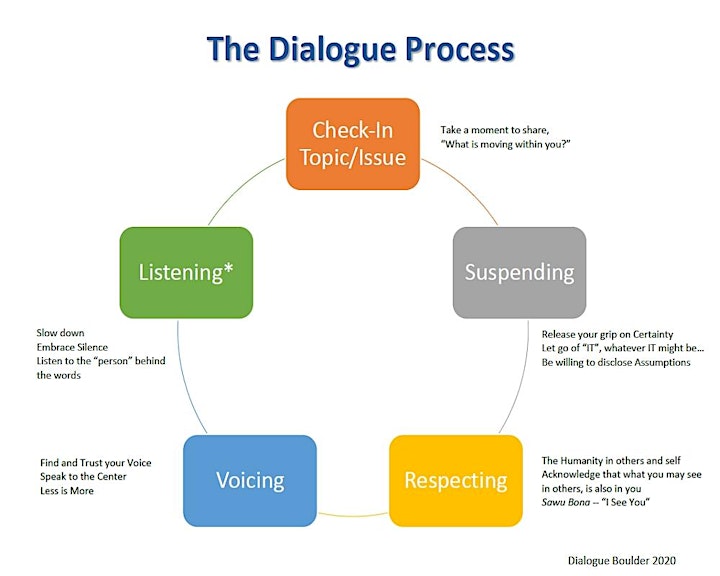 What is Bohm Dialogue?
From Wikipedia: Bohm Dialogue (also known as Bohmian Dialogue ) is a freely flowing group conversation in which participants attempt to reach a common understanding, experiencing everyone's point of view fully, equally and non-judgmentally. This can lead to new and deeper understanding. The purpose is to solve the communication crises that face society, and indeed the whole of human nature and consciousness. It utilizes a theoretical understanding of the way thoughts relate to universal reality. It is named after physicist David Bohm who originally proposed this form of dialogue.