Description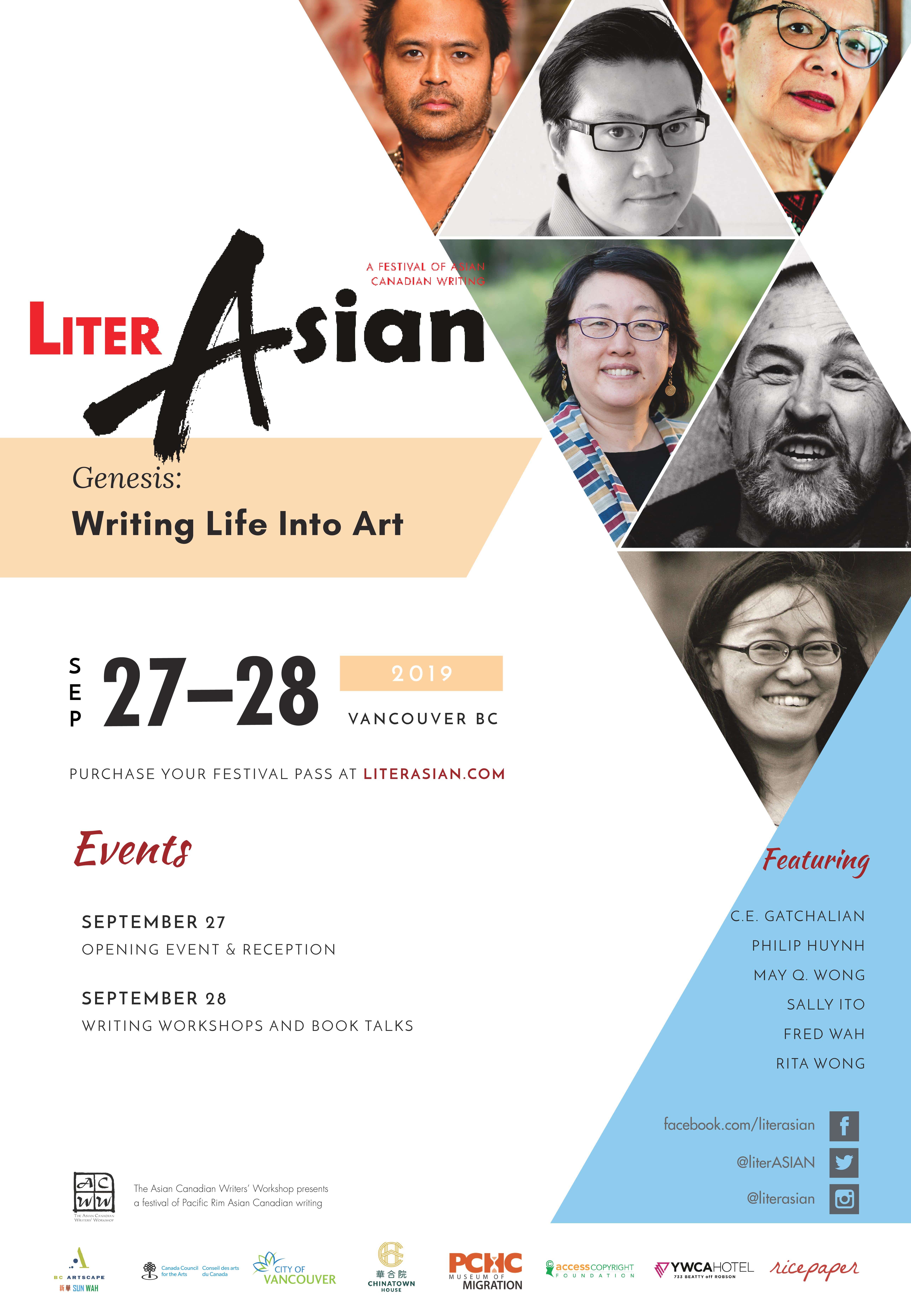 LiterASIAN 2019: A Festival of Pacific Rim Asian Canadian Writing will take place on Friday, September 27, 2019 and Saturday, September 28, 2019. This year's festival theme - Genesis: Writing Life Into Art - invites everyone to think about the various origins of creative and cultural inspiration. The festival will take place in historic Vancouver Chinatown's Sun Wah Centre and Chinatown House. The festival will include an opening reception at Chinatown House, catered by Ca Phe Vietnamese Coffee House. Writing workshops and book talks will be held at the Sun Wah Centre.
Featured authors at the festival will be award-winning writers Rita Wong, C.E. Gatchalian, May Q. Wong, Philip Huynh, and Sally Ito.
LiterASIAN's Opening Reception at Chinatown House will feature the presentation of the Jim Wong-Chu Emerging Writers Award. The newly renamed Emerging Writers Award originated in 1999 to help authors of Pacific Rim Asian heritage be published with an established publishing house.
---
Opening Night - Panel presentation featuring LiterASIAN authors on September 27 at Chinatown House (188 East Pender Street, Vancouver), catering by Ca Phe Vietnamese Coffee House

""Feeling the First Vague Stirrings" with C.E. Gatchalian on Saturday, September 28 at Sun Wah Centre (268 Keefer Street, third floor)

"Writing From Scratch" with Philip Huynh on Saturday, September 28 at Sun Wah Centre (268 Keefer Street, third floor)

"Events and Epiphanies: Writing Your Personal Myth" with Sally Ito on Saturday, September 28 at Sun Wah Centre (268 Keefer Street, third floor)

"Writing By Remembering Our Multicultural Pasts" with May Q. Wong on Saturday, September 28 at Sun Wah Centre (268 Keefer Street, third floor)

Closing Book talk "Talking beholden: a poem" with Rita Wong on Saturday, September 28 at Sun Wah Centre (268 Keefer Street, third floor)