Little Italy Cheese Workshop. Jun-14-2016

Tuesday, 14 June 2016 from 6:00 PM to 8:00 PM (MDT)
Event Details
Little Italy Cheese Workshop.
June 14, 2016
In the evening of June 14th, 2016, we are gathering a group of 25 participants for a unique experience of cheese workshop in the anchor store, the Italian Centre, of the Edmonton Little Italy.
A 6 cheese taster's course menu will be presented and each paired with dried fruits, some prosciutto and some compote – each course will be different of course! Participants are going to learn about the cheese presented. Cheese will go soft and mild, semi firm, medium sharp, sharp, and will also feature a dessert cheese. Participants are also going to see a demo of fresh mozzarella making!
Although wine is not included in our ticket price, the Italian Centre team will have some wine specials by bottle or glass for purchase if anyone is interested.
This event supported by McCauley Revitalization to provide exposure to the local restaurants and to also showcase the McCauley area as a safe and viable area to enjoy. The purpose of this project is to encourage the marketing of local retail business and grocery products over an evening event.
Event Details
Date: June 14th, 2016
Time: 6pm – 8pm
Location: Spinelli's Bar Italia (attached to the Italian Centre Shop)
Cost: $25.00/person
(Tickets are available on Eventbrite May 30 to Jun 11; each person can buy up to 4 tickets)
If you have ANY dietary restrictions, please contact us BEFORE purchasing any tickets.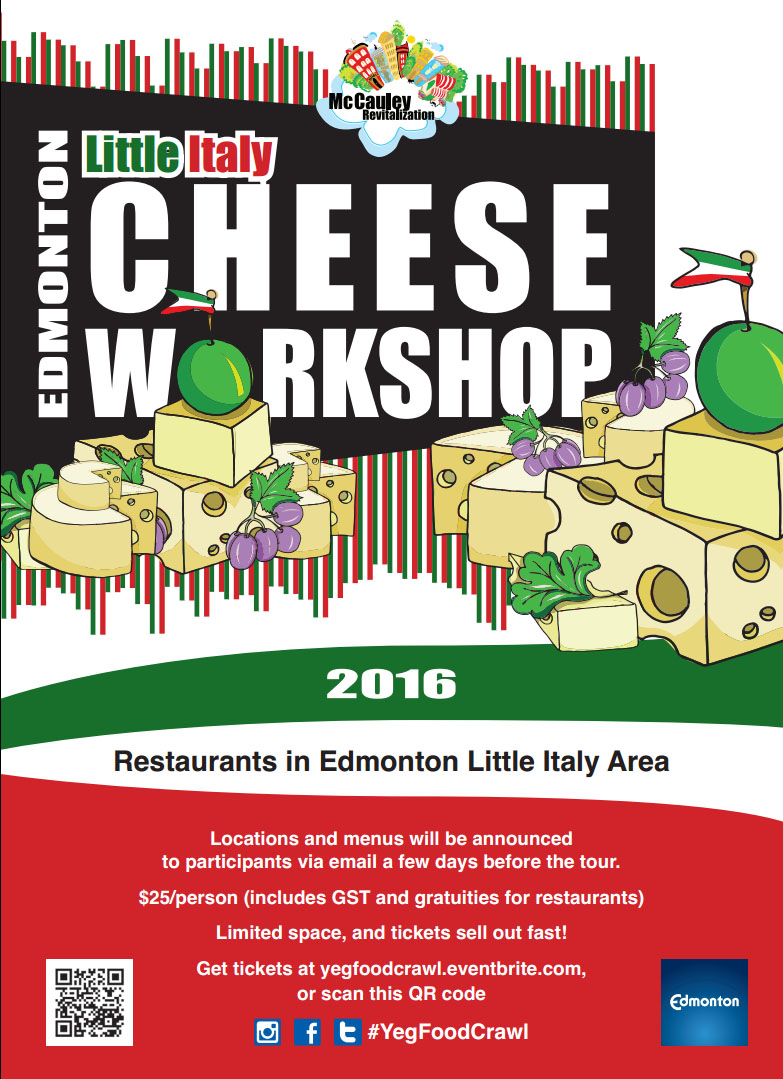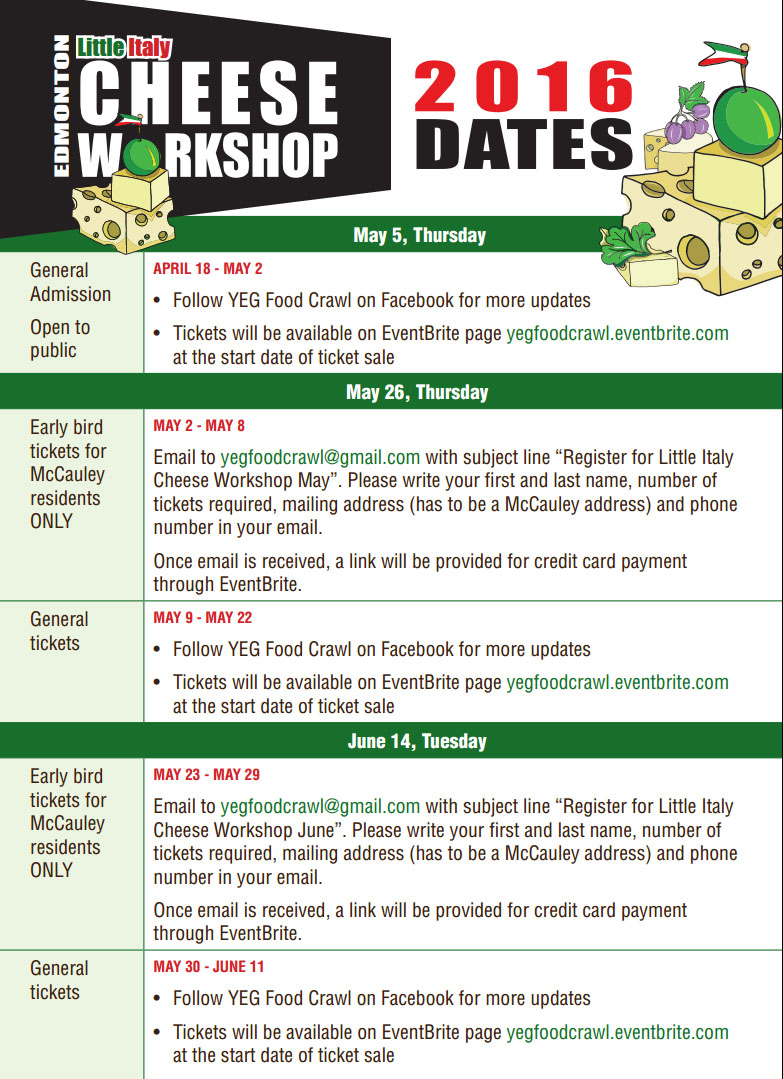 About McCauley Community (read more)
McCauley is a vibrant and ethnically diverse inner city neighbourhood in Edmonton, Alberta undergoing revitalization. It is named for Matthew McCauley, the first mayor of Edmonton, and is located just to the north east of the Downtown core. McCauley is famous as the home of dozens of religious buildings concentrated in a small area as well as being a large venue for the 1978 Commonwealth Games.
The neighbourhood is roughly triangle-shaped, bounded on the north by 111 Avenue/Norwood Boulevard, the west by 101 Street, and the south east by the LRT line and the old Canadian National Railway right of way.
About Edmonton Little Italy (read more)
Local businesses established Viva Italia District Association as its own distinct association in 2014 to develop and promote the spirit of community along Edmonton's 95 Street. Formerly part of the Chinatown Little Italy Business Revitalization Zone, the association now focuses its efforts on specifically promoting and celebrating the Little Italy streetscape.
Long known for its anchor store, the Italian Centre Shop, this neighbourhood is experiencing a strong revitalization. New businesses and restaurants are moving to 95 Street to capitalize on the distinctly European character that has flourished here since 1959.
Those longing for a taste of Europe need only stroll 95 Street to feel enveloped by the warmth and charm of the local shops and restaurants.
Giovanni Caboto Park sits at the heart of Little Italy and is truly community gathering place. The statue of one of the area's first entrepreneurs, Frank Spinelli plays cards in Giovanni Caboto Park, always with room for friends. There's the summer spray park and playground that brings community members and visitors alike out to enjoy Little Italy's best green space. Gorgeous towering elm trees dot the park, creating shade on a sunny day, and the perfect place for a picnic. All the amenities are nearby, so pick up lunch and join us!
When & Where

Italian Centre Shop Ltd
10878 95 Street
Edmonton, AB T5H 2E4
Canada

Tuesday, 14 June 2016 from 6:00 PM to 8:00 PM (MDT)
Add to my calendar
Organizer
The Food Crawl project is an initiative of the McCauley Revitalization in order to provide exposure to the local restaurants and to also showcase the McCauley area as a safe and viable area to enjoy. The purpose of this project is to encourage the marketing of local restaurants over an evening event.
To know more about McCauley Revitalizatoin, visit 
https://www.edmonton.ca/projects_plans/communities_neighbourhoods/mccauley-revitalization.aspx