Description
The performances of the second annual KW Flamenco Fest are happening July 31st and August 1st!
Flamenco workshops will take place throughout the festival, July 30th to August 1st. Read more here.

This year, our guest performer is flamenco dancer & percussionist Ronaldo Monge from Puerto Rico, accompanied by Claudia Aguirre & Julian Berg - Calujules, as well as nuevo-flamenco guitarist Juneyt Yetkiner.

Our goal is to add diversity to the rich arts and culture fabric of Waterloo Region while building a community around the art of Flamenco. We aim to be family-friendly, accessible, and enlightening by sharing the full range of Flamenco arts: dance, song, guitar, percussion and clapping (Palmas).
Hope you join us!
Ticket sale ends at 5pm on the day of the performance. Remaining tickets will be available at the door.
More information can be found here: www.calujules.com/flamfest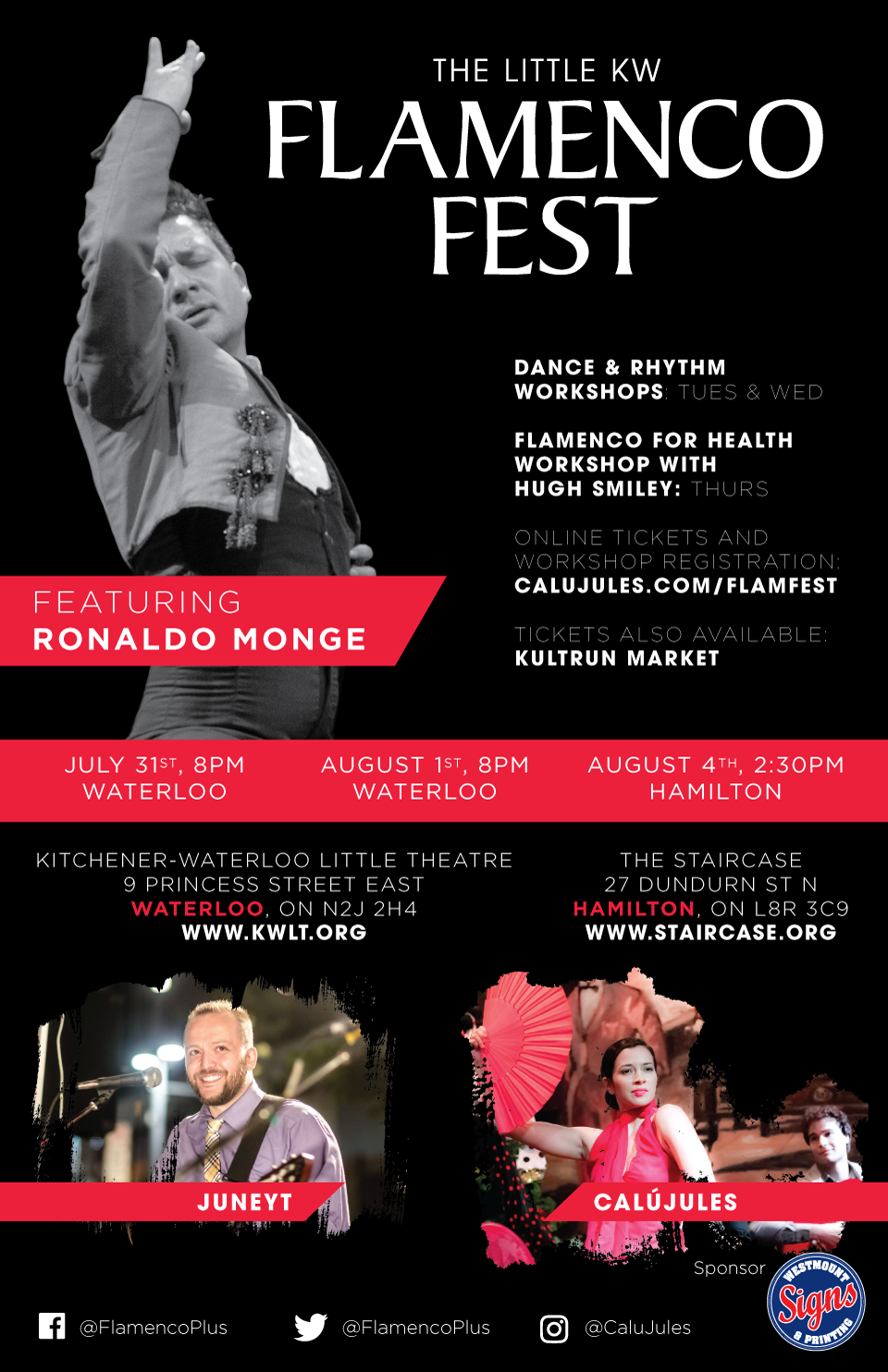 Organizer of Little KW Flamenco Fest 2019
CaluJules—Flamenco Plus is a partnership between dancer-singer, Claudia Aguirre (a.k.a. Calú) and flamenco guitarist, Julian Berg. Together, they teach flamenco in Waterloo and the north-east districts of Toronto. They are passionate about community-building and arts education, having led workshops for organizations such as Wheeldance Canada and the VIVA Youth Singers Choir. They are avid contributors to Canada's growing flamenco scene. CaluJules perform shows, teach, accompany guest artists, and have collaborated with some of Canada's finest, including Compañia Carmen Romero and Maria Serrano's Flamenco Dance Academy.