About this Event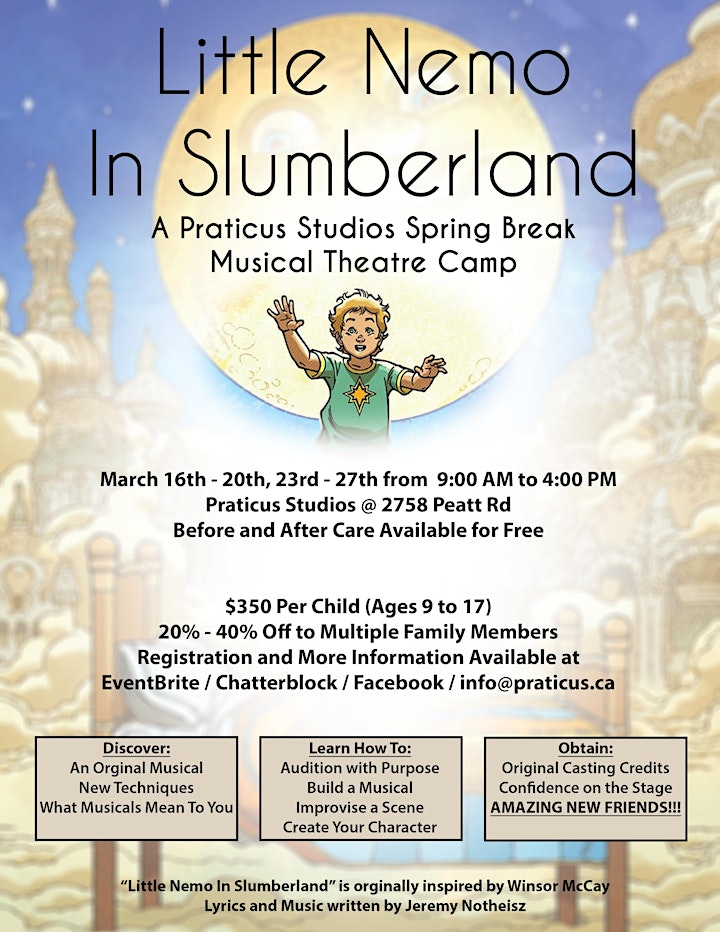 Come join Rob Friesen, Jeremy Notheisz, members of Praticus Studios and learn how to produce, stage, and star in an original musical to recorded and aired professionally.
Camp Activities Include:
Getting a role as well as original cast credits in the production of Little Nemo in Slumberland (Enough parts for everyone)
Learn how to build props from different materials (And keep your favorites!!!)
Create a Musical Flash Mob from start to finish (Flash Mob on the 25th)
Learn the technical aspects of putting a musical together including sound, lighting, and staging. (Certain Lighting makes people nauseous)
Paint some of the magnificent backdrops planned for the show. (Pretty Colors!!)
Play-Writing Classes for the dramatically eccentric (Lay on the Hamilton)
Performance Masterclasses for the musically inclined (See Above Statement)
Showcase Little Nemo in Slumberland in two performances (28th and 29th)
Video Tape Little Nemo in Slumberland in a movie musical style format
Camp Enrollment Fees can be paid here or via E-Transfer to billing@praticus.ca. If paying by e-transfer please call us first at 250-893-4837 to make sure that payment and registration are done correctly. The Camp is filling up quickly, make sure to register quickly so you're not disappointed.
About the Production Team:
Rob Friesen
Rob Friesen has been a storyteller and actor his entire life, if the surviving video evidence is to be believed. He spent large amounts of his childhood crafting elaborate stories and tales often co-opting his siblings and friends as willing participants. Parental influence channeled this energy into a love of theatre.
After High School this easily continued into Rob joining a touring repertory theatre company based in Los Angeles. After completing tours in Tennessee, Kentucky, Wisconsin, Iowa, Florida, the Bahamas, and more, Rob left to join a brand-new non-profit touring company in Canada. He spent a year and a half traveling across Canada and performed in nine provinces. (Newfoundland being the exception)
Since moving back to Victoria Rob has incorporated theatre into his career in education. He has also spent the last seven years involved in the local community theatres, having worked with a number of productions as an actor, writer and/or director. One of his most recent director credits include the 50th Anniversary of Joseph and the Amazing Technicolor Dreamcoat with Four Seasons Musical Theatre Society. It was here when he first asked Jeremy to work with him on a production.
Now working towards teaching, directing, and writing music Rob is ready to help prepare the generation of amazing talent for the world of the stage.
Jeremy Notheisz
Jeremy Notheisz grew up in Grand Forks, BC where Joan Thompson taught him voice from the age of 12. Under her guidance his first solo performance was "Bring Him Home" from the production Les Misérables. Through her encouragement they completed his Grade 10 Voice Exam with the RCM, which led to study at UVic in 2006 with voice tutelage under Judith Dowling and Benjamin Butterfield. During that time he was given the opportunity to take the lead roles in both Paris a Nous Deux and Der Lindberghflug within the UVic School of Music. Other performances included tours across eight countries with the Uvic Chamber Singers and Prima Choir under the direction of Bruce More.
In 2010 Jeremy took a break from full time music to pursue entrepreneurship and self-development. Meeting his wife that year and later marrying in 2013 they went into business developing people while Jeremy taught and performed part time.
In 2017 Jeremy became one of the co-founders of the Vancouver Island Performers Guild. A guild dedicated to helping talented performers create more opportunities for themselves while gaining ownership of their results. This spawned Opera in a Box, a group dedicated to taking a full scale opera and shrinking it down to a four foot trunk. Since then he has been on the production team and been offered the lead roles of the first three OIAB Productions (Martha: Unadorned, Djamileh: Unrequited, and its most recent production Sleepwalker). He has also created a partnership with the Best Coast Big Band where VIPG Vocalists are free to perform with a semi-professional Big Band.
Invited by the Four Seasons Musical Theatre Society, Jeremy was brought in to be the Music Director for both Joseph and the Amazing Technicolor Dreamcoat as well as The Vault Bros Show. This resulted in the launch of Praticus Studios, a Contemporary Performing Arts Studio dedicated to helping performers of all ages master their skills and learn how to represent themselves in an ever changing music industry. After teaching for two years full time now he has moved Praticus into a full time commercial space for the students to call home.
Happily married, father of a four year old son, and now holding a daughter that is nine months old, he is rooted and ready to make some noise.