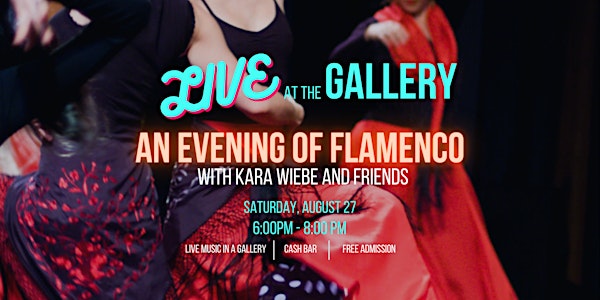 Live at The Gallery: An Evening of Flamenco with Kara Wiebe and Friends
Join us in August 2022 for an evening of Spanish flair with Flamenco performances from a local dance school!
When and where
Location
Deer Lake Gallery 6584 Deer Lake Avenue Burnaby, BC V5G 3T7 Canada
Refund Policy
Contact the organizer to request a refund.
Eventbrite's fee is nonrefundable.
About this event
August is going to get hot at the Deer Lake Gallery! We are inviting a group of Flamenco dancers for a fun fiesta this evening. Come enjoy live music, performance, and enrich your cultural knowledge at this Live at the Gallery.
The Burnaby Arts Council is passionate about promoting the arts as a vital component of our city's culture. We take great pleasure in offering this FREE music concert series and welcome you to the Deer Lake Art Gallery!
 Live at the Gallery is a chance to bring music into the gallery setting, to connect the visual and the musical arts, and the fans of both. This performance series is an exciting mix of art and sound! From the sweet sounds of classical music to chilled-out beats of local folk bands. Expect the unexpected.
About the Performers:
Gerardo Alcalá - Guitarrista
New Orleans born Flamenco guitarist Gerardo Alcala is one of the few foreigners to be respected as a full-fledged Flamenco artist by the gypsy Flamencos of Andalucia, among whom he lived the authentic Flamenco lifestyle for many years. He learned his art from the masters: Rafael el Aguila, Parrilla de Jerez, Niño Jero, Rafael Alarcón, Eduardo de la Malena, and Pedro Bacan. In the intimate closed-door sessions, or Juergas, where the pure sould of Flamenco, el Duende, can surge forth in all its savage beauty, he has spent countless hours accompanying great gypsy singers such as Agujetas, Gitano de Bronce, El Garbanzo, El Monea, Salmonete, Chato de la Isla, Dolores, Antonio, Luis, Diego, El Gordo, and Paco Agujetas, and many others.
He has performed professionally in major theatres on three continents, including Carnegie Hall, as well as for television, radio and film. In the U.S. he toured extensively with the Spanish dance companies of Jose Molina and Teo Morca and did many recitals with the legendary Anzonini del Puerto. In Spain he performed with the all-gypsy company of Fernanda Romero and has had particularly long and close relationship with the Agujetas family, including Manuel Agujetas, who has preserved the deepest and purest singing in Spain. With them, he was featured as sole accompanist in the prestigious Circulo de Bellas Artes in Madrid and the Dutch film "Duende".
In 1990 he was honoured to become the first North American ever to be contracted to perform as a soloist in the Bienal de Sevilla, Spain's most important Flamenco Festival. In 1998 he accompanied Luis Agujetas on his CD "Entre tu Tierra Y La Mia". In 2000, he appeared accompanying Luis, Diego, and Paco Aguetas in the film "El Turista Soy Yo". In 2002 he was first guitarist at Mexico's most important tablao "gitanerias" and did a tour of Spain and France accompanying the singer, Dolores Agujetas.
Gerardo performs both as a solo guitarist and with his group, Flamenco Alcala, (a singer and one or two dancers). He is based in Vancouver, BC.
Cyrena "La Sirena" - Cantaora (singer)
Cyrena is a flamenco dancer, singer, and a flamenco cellist and frequently performs in both capacities. She has studied baile most intensively with Kasandra La China and Oscar Nieto but also with Isabel Bayon, Adela Campallo, Inmaculada and Domingo Ortega, Marco Flores, Maria Juncal, Juana Amaya, Cihtli Ocampo, Cristina Hall, Ricardo Lopez, Emilio Ochando, Israel Galvan, Pastora Galvan, Concha Jareño, Ivan Heredia, Cristina Benitez, Claudia Cruz, La Lupi, Jose Manuel Alvarez, Mercedes Córdoba and Lidon Patino among others.
She has performed in Cafe de Chinitas Vinetas, the Vancouver International Dance Festival, the Victoria Flamenco Festival, The Vancouver International Flamenco Festival, Albuquerque Flamenco Festival, Raices y Alas Colores, Pairings, Dance All-Sorts, and has danced regularly at the Kino Cafe and the Chai Lounge. She was featured in an issue of "The Dance Current" in the March 2009 issue highlighting flamenco dancers in Canada. She recently choreographed and performed with Rachel Mercer, principal cellist of the National Arts Centre Orchestra for the world premiere of Alice Ping Yee Ho's "Mascarada" a Cello and Flamenco Dance Concerto in 2021.
Cyrena has been teaching flamenco to all ages, from toddlers to adults at the Al Mozaico Flamenco Dance Academy for many years but is taking a break to raise her own toddler! She has also been known to sing flamenco in the shower or when plied with enough sangria.
She has studied cante with: El Veneno, Ana de los Reyes, Inmaculada Rivero, Cristo Cortes, Naike Ponce, Miguel Rosendo, Emilio Florido, Tomas el Perrate, Jesús Corbacho, Alfonso Cid, Vicente Griego and others.
Kara "La Picante" - Bailaora (Dancer)
Kara was born and raised in the lower mainland BC and has been studying Flamenco for 8 years. She has a background in modern dance and gymnastics but has found her passion in the fervor and artistry of Flamenco. She has spent time living and working in Spain and feels a deep connection to the culture and people. However, she did not discover her love for Flamenco until later in life after returning to Canada. She fell in love with the art form the very first class and has not stopped dancing since. Kara has been studying with Kasandra "La China" and Mozaico Flamenco in Vancouver since 2017. Kasandra has been teaching her the fundamental elements of "flamenco puro" as well as helping develop her own personal flamenco style.
Kara has taken workshops with notable artists including Emilio Ochando, Concha Jareño, Christina Hall, Adela Campallo, and Ivan Vargas. In 2019, she travelled to Miraflores de la Sierra, Spain, to participate in intensive workshops hosted by Inmaculada and Domingo Ortega along with other guest artists including Carmen La Talegona, Celia Pareja, and Joaquin Ruiz. She was awarded a scholarship to return the following summer. Unfortunately, due to the pandemic, this was cancelled. Most recently, The Dance Centre awarded her a Reboot Grant in January to work with local mentors to explore dance and choreography development with the cante (singing).
She has performed in various community events including Mozaico Flamenco's Sunday Salon Series, Victoria Flamenco's first Virtual Festival in 2020, smallstage.ca Love Bubble pop up shows, LatinCouver Festival, Vancouver International Flamenco Festival, Nowruz Festival, Korean Cultural Heritage Festival, and the PNE. She also performs regularly with Mozaico Flamenco at Kino Cafe (pre pandemic) and Chai Lounge East is East.
Amber Rowell - Bailaora (Dancer)
Amber has been dancing since the age of five. She primarily focused on classical Russian ballet for over twenty years, but also studied other disciplines such as contemporary, jazz, modern and Polynesian. Amber found flamenco five years ago and has completely fallen in love with the dance, music and history of this dynamic discipline. Now a mother, she is excited to be performing again after the Covid-19 lockdowns. It is through dance that Amber is most fully able experience and express life.
Cynthia Shippam Brett - Bailaora (Dancer)
Cynthia is a flamenco enthusiast based in Vancouver BC. Flamenco has been a constant thread in her life for past 20 years, ranging from "…just doing it.." to solo theatre performances, including impromptu por fiesta in some small towns in Spain. She has learned from local and international artists, including Kasandra "La China", Oscar Nieto, Inmaculada Ortega, Emilio Ochando, Cristina Hall, and Concha Jareño.
Andreana Karogiannis - Bailaora (Dancer)
Andreana Karogiannis spent her early years training in various dance forms such as ballet, tap, jazz, modern, and highland. She went on to apprentice and perform with various contemporary companies and, in 2017, discovered the world of flamenco. Under the instruction of Kassandra "La China" and the Vancouver flamenco community, Andreana continues to learn, perform and explore flamenco dance, music, and culture.
Please join us at the Deer Lake Gallery for Live at the Gallery on Saturday, August 27th at 6 :00pm.
Wayfinding
Look for the Deer Lake Gallery along Deer Lake Avenue, across from the Burnaby Village Museum. We are located in a small house, but inside is a vibrant art space!
📞604-298-7322
📧info@burnabyarscouncil.org
Office Hours: Tuesday – Saturday, 12 to 4 pm