Explore how engaging the voices of citizens, residents, and under-represented communities can lead to better policy-making.
About this event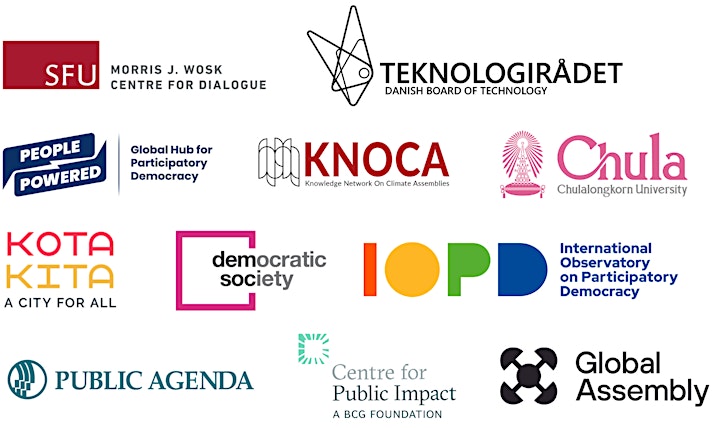 World leaders are gathering at COP26 to negotiate the phase-out of greenhouse gas emissions and limit global warming to 1.5 degrees Celsius. Living up to these commitments will require accelerated action across every sector, all while managing the impacts of increased extreme weather events and other severe climate disruptions.
Can new methods in public engagement such as climate assemblies and green participatory budgeting help to break past the short-term pressures, misinformation, polarization and partisan U-turns that have tripped up climate action in the past? What would it look like to sustain public confidence over the coming multi-decade transition?
Join the International Climate Engagement Network and special guests Carole Excell, Doreen Grove and Dr. Kanongnij Sribuaiam for this interactive online workshop. Broadcast live from Glasgow during COP26, the workshop will connect with participants around the world to explore how engaging the voices of citizens, residents, and under-represented communities can lead to better policy-making, while also increasing the democratic legitimacy of difficult decisions and mobilizing collective action.
Program highlights include:
Updates and announcements from COP26 relevant to the climate engagement field;
Ideas from international thought leaders about the business case for climate engagement and the transformative shift taking place in this field; and
Small group discussions led by subject matter experts to help participants move from ideas to action.
Introductory Panelists
The opening program segment will be moderated by Elodie Jacquet, Manager of Knowledge and Practice at Simon Fraser University's Morris J. Wosk Centre for Dialogue, in conversation with international thought leaders. Panelists include: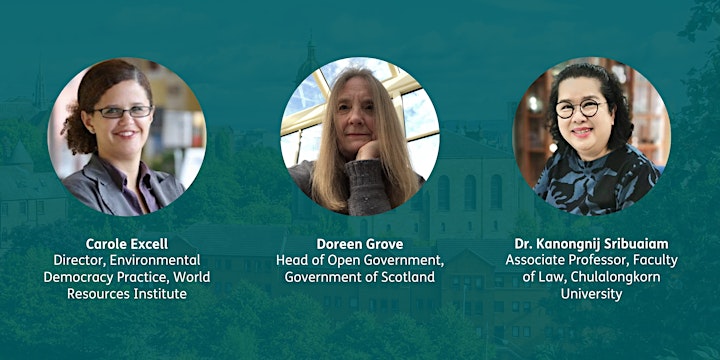 Carole Excell, Director, Environmental Democracy Practice, World Resources Institute: I am an environmental lawyer and civic engagement activist with global experience promoting environmental democracy and environmental justice, with a special focus on inclusive and equitable development, support for increasing civil space, and protection of environmental and land defenders. I have over 15 years of experience in providing legal and policy development advice, creating advocacy strategies, developing coalitions and networks, as well as working on different forms of climate engagement and deliberative participation.
Doreen Grove, Head of Open Government, Government of Scotland: Doreen leads the Scottish Government's involvement in the Open Government Partnership at both a National and International level. In Scotland, Open Government supports the reform of public services, the renewal of democracy, promotes openness, transparency and the use of innovative participative processes to help transform how people interact with public services.
Dr. Kanongnij Sribuaiam, Associate Professor, Faculty of Law, Chulalongkorn University: Dr. Kanongnij Sribuaiam is an environmental law expert and activist lawyer. She holds LLB and LLM degrees from Chulalongkorn University. She also holds a LLM degree from Harvard Law School, USA, a BA in International Environmental Studies from New Zealand, and a doctorate degree in environmental public law from France. She served as legal consultant in several law reform projects in Laos PDR, Vietnam, and Cambodia during the transition period. She was a member of the Sub-committee on Making Framework for Thai Constitutional Drafting Assembly in 2015. She is now a co-founder of Thailand Clean Air Network, a drafter of the Clean Air Bill with support of more than 24,000 citizen signatures, and an advocate for the right to breathe clean air as a part of environmental justice promotion.
Breakout Rooms with Resource Experts
The second program segment will allow participants to explore different types and contexts of climate engagement in a breakout room of their choice. Each room will be hosted by a facilitator and resource experts who can share examples and answer questions.
Partners
This event is hosted by the International Climate Engagement Network and the following international partners:
Registration and Password
A password to access this Zoom meeting will be sent to all registrants via email in the days and hours preceding the event.
Accessibility
Our events will be presented using Zoom. To engage fully you will need:
A laptop, computer, or smartphone
A stable internet connection
A webcam
A microphone
Speakers or headphones
If you have any questions, concerns, or comments regarding accessibility, feel free to connect with us at dialogue@sfu.ca.
Protecting Your Privacy
To ensure that we are using Zoom in a privacy-conscious way, we are following best practices:
We will only circulate the meeting link to those who are registered for the event
We will password protect the meeting
Code of Conduct and Inclusion Expectation
This is an inclusive event. By submitting your registration, you are agreeing to engage with organizers and others guests at the event in a respectful manner. Offensive or discriminatory behaviour and/or language toward event organizers and other guests will not be tolerated. Such behaviour may result in the removal or banning of the individual(s) from future events.
Land Acknowledgement
We respectfully acknowledge that Simon Fraser University, where the staff at the Centre for Dialogue live and work, takes place on the Unceded, Traditional, Ancestral Territories of the Sḵwx̱wú7mesh, səl̓ilw̓ətaʔɬ, and xʷməθkʷəy̓əm First Nations.
Organizer of Live from Glasgow: Climate Engagement for Systems Change