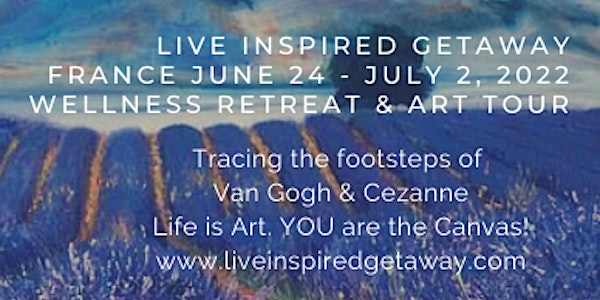 Live Inspired Getaway France 2022 Wellness Retreat & Art Tour
Location
5 Rue Porte de Laure
5 Rue Porte de Laure
13200 Arles
France
Tracing the footsteps of Van Gogh and Cezanne in the heart of Provence. June 11 - 19, 2021, Arles, France Life is Art. You are the Canvas
About this event
Are you ready to make a healthy change, to put on your own (oxygen) mask first?
Don't ask what the world needs...Ask what makes you come alive and then go do it. Because what the world needs is more women who have come alive!
If you're a purpose-driven woman on a personal quest for excellence who is ready to reinvent yourself, to create something new, then join Maura Joy Lustig, transformational coach, artist and retreat host to escape, unwind, recharge your life and indulge your senses in Arles and Aix en Provence, in southern France. Our experience is grounded in the history, the art, the culture, the cuisine! This is the ultimate gift of self-care for the busy woman!
Visit www.liveinspiredgetaway.com for details, pricing and registration!
The perfect blend of activities and relaxation...music, laughter, strolls, exploration together and more.
Our week will be leisurely and magical - a chance to slow down, settle in, relax and enjoy the pace of French living. Carefully planned to allow you plenty of time to absorb and process your own journey and transformation, we will alternate with fabulous visits to iconic sites for two major artists of the nineteenth century - Vincent van Gogh (1853 - 1890) and Paul Cézanne (1839 - 1906). Both were in love with the landscapes, views and of course most particularly - the light, that is so unique to the south of France.
We believe this focus on art, including the beauty of the landscapes and nature (the lavender will be in bloom) will add inspiration, insight, pleasure and relaxation to your retreat time.
Life is not measured by the breaths you take, but by the moments that take your breath away.
Come join us! (maximum 8 participants)