Live Music by Kat and Sil Simone Duo live on stage at Brickyard BBQ's Patio
NOTE CHANGED TO SUNDAY 4:00PM Outdoor Live Music with Kat Duo at Brickyard BBQ We will hold your reservation for 15 minutes only.
About this event
The amazing Live Music Entertainment line-up for you, your family and friends pleasure includes:
- Lots of free parking and free live music
- This live entertainment event will have 2 sets of 1 hour each and will be played by Kat and Rox Duo. They will perform many styles live music for you to enjoy...
- Enjoy Brickyard BBQs award-winning food trucks and outdoor bar on the extended patio.
IMPORTANT NOTICE:
Keep in mind that this event is based on weather conditions. We will hold your reservation for 15 minutes only, after that you lose your reservation.
This is an important update regarding Reservations, Masks and Dancing under the Ontario Reopening Act Step 3. Please ensure your guests (under your reservation) receive this information prior to the event.
1. TABLE RESERVATIONS: With the change of the Ontario Rules, reservations and contract tracking is required.
2. MASKS & SOCIAL DISTANCING: Under Step 3, every patron in an outdoor establishment "must wear a mask or face covering unless they are seated with members of their household only... For greater certainty, patrons are permitted to remove a mask or face covering temporarily to consume food or drink".
3. DANCING: Under Step 3, "dance is permitted in food & drink establishments where dance space is provided". To keep our customers safe, we ask that you try to remain seated for the majority of the performance but if you and your guests would like to dance, it must be 1.) with a mask or face covering and 2.) beside your table and 2 meters away from people at other tables.
Thank you for your understanding of the Provinces Rules and Regulations and we look forward to an absolutely great event!!!
The teams at Live Entertainment Toronto and Brickyard BBQ & Bar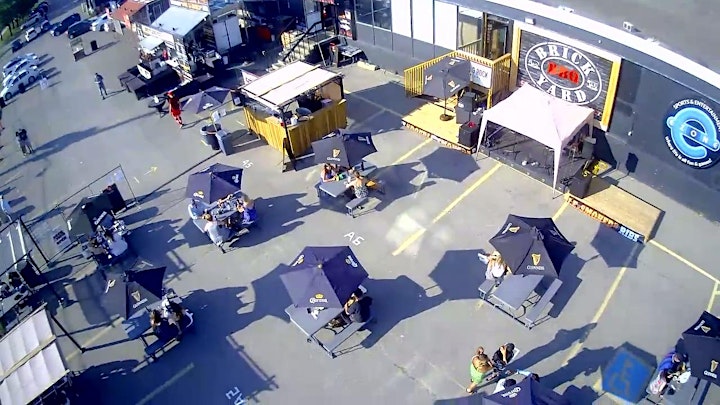 Organizer of Live Music by Kat and Sil Simone Duo live on stage at Brickyard BBQ's Patio