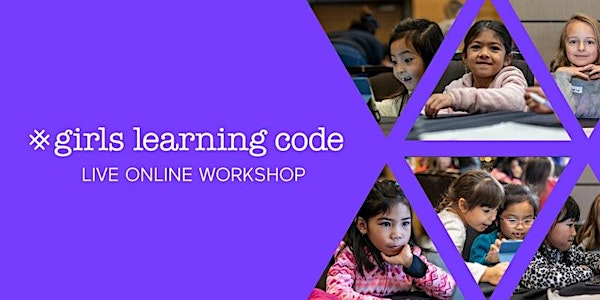 Live Online GLC: Escape Game w/ Scratch! (9-12 + Guardian) (2hrs) - CS
Workshops, camps and tech day experiences for 9 to 12 year-old girls.
By Canada Learning Code | Canada en programmation
Date and time
Tuesday, May 2 · 1:30 - 3:30pm PDT
Refund Policy
Contact the organizer to request a refund.
About this event
Why learn about Gamemaking? From Checkers, to Super Mario Bros, to Angry Birds… we think games are awesome! Kids Learning Code is excited to combine the power of play with basic design and programming skills in this hands-on workshop. This experience offers learners the opportunity to create their very own digital games in a super fun environment. Using Scratch, a beginner level programming environment, imagination will come to life in a new and digitally engaging form. Learners will also be introduced to Scratch's amazing online community, sloganed: "Imagine, Program, Share," where they will have the opportunity to upload their game for anyone on the web to download and play! For this workshop, an adult needs to be present in the room with the participant at all times.
Who is this for?
This workshop is for girls ages 9-12 + Guardian. Our workshops are designed to give learning experiences that are fun, engaging, empowering and inspirational. Through hands-on, collaborative, project-based learning, girls end the workshop having built something. This workshop experience is designed to help girls see technology in a whole new light – as a medium for self-expression, and as a means for changing the world.
Prerequisites:
None! This workshop is designed for beginners.
What's Included:
An awesome lead instructor and industry mentors!
Requirements: 
Learners must be accompanied by a parent or guardian for the full duration of the workshop!
You must bring your own laptop for which you have administrative permissions.
Please remember to bring your own powercord. A mouse can come in handy too!
You may be required to download some free software. After you sign up we will email detailed instructions.
We strive to host inclusive, accessible experiences that enable all individuals to engage fully. To request an accommodation or for inquires about accessibility, please contact accessibility@canadalearningcode.ca
Hey you! Have you joined the Canada Learning Code mailing list? It's the best way to stay updated and get information about upcoming learning experiences. Subscribe here.
Questions? Email us at info@canadalearningcode.ca
You can also find us here:
Hope to see you soon!
If you're interested in supporting our mission click here to donate.
About the organizer
We design, deliver and partner on technology education for people in Canada and run programs for Ladies, Kids, Girls, Teens and Teachers.
Nous concevons et mettons en œuvre des programmes et réalisons des partenariats d'enseignement de la technologie pour les femmes, les enfants, les filles, les ados et les enseignants du Canada.