Live Online Kids Learning Code: Artmaking with Scratch (For Ages 9-12 + Gua...
Description


Why learn about Artmaking?
Art is everywhere - even on our computers!

Kids Learning Code is excited to combine the power of play with basic design and programming skills for this hands-on workshop. This experience offers learners the opportunity to learn basic programming principles in a super fun, beginner-friendly environment! Through merging creativity with basic coding concepts, learners will use code to create digital artwork on their computer.

Using Scratch, a beginner level programming environment, learners will have the tools to develop interactive art and art-building platforms to share and use. Learners will also be introduced to Scratch's amazing online community, sloganed: "Imagine, Program, Share," where they will have the opportunity to upload their projects to share with fellow digital artists!

For this workshop, an adult needs to be present in the room with the participant at all times.
Who is this for?
This workshop is for kids ages Ages 9-12 + Guardian. Our workshops are designed to give learning experiences that are fun, engaging, empowering and inspirational. Through hands-on, collaborative, project-based learning, kids end the workshop having built something. This workshop experience is designed to help kids see technology in a whole new light – as a medium for self-expression, and as a means for changing the world.
Prerequisites:
None! This workshop is designed for beginners.
What's Included:


Requirements: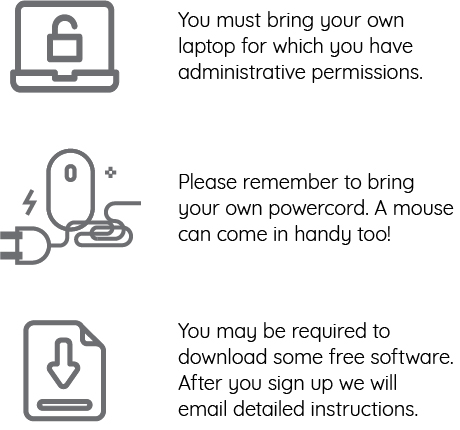 Hey you!
Have you joined the Canada Learning Code mailing list? It's the best way to stay updated and get information about upcoming learning experiences.
Subscribe here.
Questions? Email us at
info@canadalearningcode.ca
Connect with us! You can find us here:







Hope to see you soon!