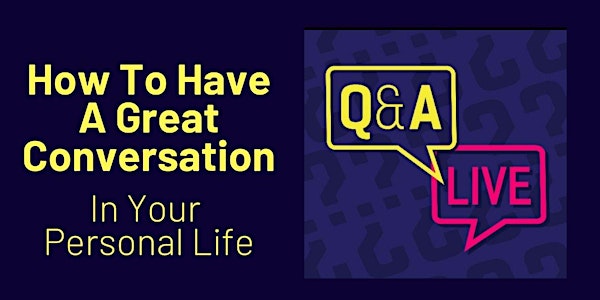 LIVE Q & A - HOW TO HAVE A GREAT CONVERSATION (HOLIDAY EDITION)!
HOW TO HAVE A GREAT CONVERSATION IN YOUR PERSONAL LIFE
About this event
You are a successful professional and typically have no problem having a conversation with people in your work life and with friends. But, when it comes to your love life, that's a whole other story.
THIS EVENING IS PERFECT FOR YOU IF ...
- You're a single professional age 35+, who's ready to find your life partner
- You want to feel more at ease and connected when talking to someone you find attractive
- You enjoy self growth and learning new communications skills
IF THIS SOUNDS LIKE YOU, THEN THEN JOIN US!
In this live, interactive and fun online question and answer session you'll get to ask all the questions you've wanted to ask, but didn't know who could answer them.
And you'll hear other people's questions and the answers covering a wide range of topics.
Questions like ...
How do I open a conversation and not make it "business-like" or sound like an interview?
What kinds of topics should I talk about?
What can I do to feel more relaxed and at ease?
Sometimes I can appear stand-offish, how do I become more approachable?
What are the cues to look for to know if someone is interested in talking to me?
How do I gracefully end a conversation?
At the end of this online discussion you'll feel more positive, comfortable and confident in your ability to have a conversation with someone you find attractive.
If you'd prefer to ask a question anonymously you can PRIVATE MESSAGE the event organizer and your question will be included in the discussion.
TICKET PRICE:
Tickets are FREE to this online Q & A session. Please register for your free ticket on this page.
LOGIN INFORMATION:
Event login information will be emailed to registered participants the day of the event. We will be using Zoom for this online session.
THIS IS A CAMERA-ON EVENT, so please be camera ready. Participants who do not turn on their camera will respectfully be asked to leave the event.
*Note - This event will be recorded
ABOUT THE FACILITATOR:
BARBARA KATZ
DATING, RELATIONSHIP & COMMUNICATION COACH
Barbara works with professionals age 40+ who are ready to find their life partner. She teaches them how to uplevel their dating, relationship and communication skills, so they can find and keep the long term, committed relationship they desire.
Her clients have a ridiculously high success rate of finding love… and sometimes even before they finish working with her.
She is also the founder of FlirtFactor.ca, a company dedicated to improving communication between the sexes, a live event provider for the dating site Match.com, a trained Co-Active Coach, and holds a Practitioner Certification from NLP Canada.
We look forward to seeing you for a lively and enlightening discussion!