Description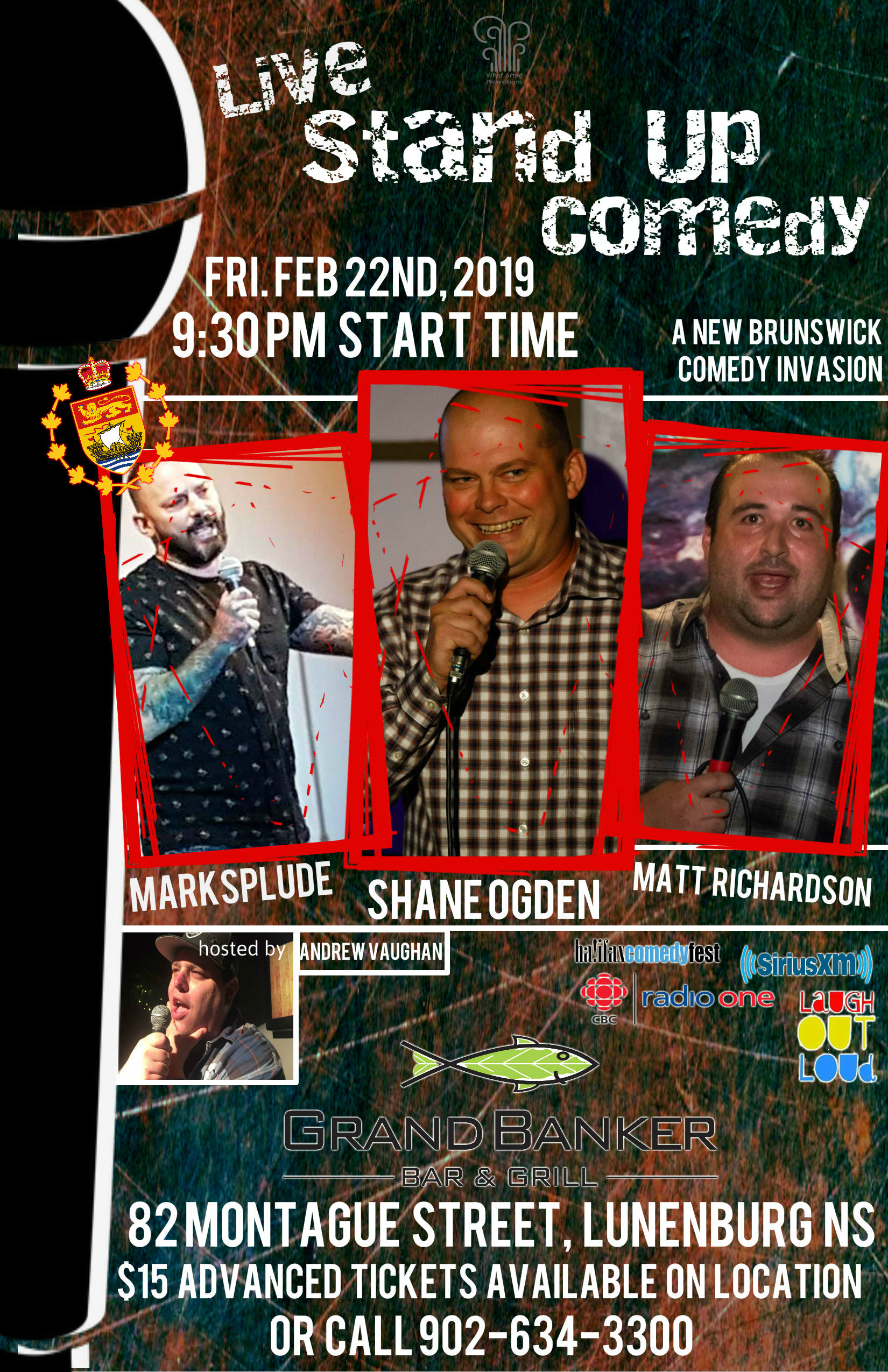 Live Stand Up Comedy returns to the Banker! This time we have a New Brunswick Comedy invasion featuring 3 of the best comics from New Brunswick who entertain audiences from all over!

Tickets are one sale now and are $15 in advance. They can be purchased onsite or by calling 902-634-3300.

FEATURED ON THE SHOW:
Your Host, Andrew Vaughan
Charming, Engaging, and thoughtful are words. Andrew Vaughan is a comedian from the East Coast of Canada.

Originally from a small town on the south short of Nova Scotia, Andrew started doing comedy in Halifax in 2010. Since that day Andrew has has gone from telling jokes in a bar with 12 people drinking to telling jokes in a room full of 300 people drinking.

In 2014 Andrew made his first appearance for the Halifax Comedy Festival Homegrown show and was invited back to the same show in 2015. In May of 2015 Andrew made his national radio debut when a set of his aired on CBC's Laugh Out Loud Program. Andrew tours across the country and in 2017 released his first stand up comedy album called "Too Fat to Go Kart"

Mark Splude:
Mark Splude is the host of The SPLUDECAST and has opened for great comics such as Mike Dambra, Kathleen McGee and Jason Rouse. He is also the only Maritime comic to headline Chuckles Comedy Club. A small, angry man with heavyweight punchlines, Splude takes uncensored comedy to the limit.

Matt Richardson:
Originally from The Miramichi Matt Richardson has been doing comedy across the country for over a decade. He spent a significant amount of time in Toronto where he worked with the fame Second City Comedy. Since returning he's headlined shows all over the maritimes in all the major comedy clubs and big venues everywhere.

HEADLINING THE SHOW:
Shane Ogden:
Shane Ogden is a 20 year veteran of stand up comedy. Originally from New Brunswick, he tours all over Canada and is widely regarded as one of the funniest comedians from the maritimes.