Live Stream - EMDR with Children and their Family using the IATP-C Model (L...
Event Information
Location
Live Stream
Eastern Time Zone
Canada
Refund Policy
Refunds up to 30 days before event
Description


This workshop is part of the requirements for the IATP-C Certification!
Be part of the first group of clinicians to be trained in Canada!


---
For practitioners who have completed their EMDR basic training
EMDRIA CEC's available (6 credits per day).
Schedule: 9 am - 4:30 pm each day.
This live-Virtual workshop offers lots of experiential learning and videos!
Learn to implement EMDR to strengthen attachments, develop self-regulation, and heal attachment wounds rooted in a history of abuse, neglect, early medical trauma, or changes in caregivers through slides, case presentations, and over 30 videos of our work with severely traumatized, complex children. You will be able to immediately apply innovative strategies and help children with even the most severe behaviors, including stealing, lying, aggression, sexualized behaviors, elimination problems, and defiance.
This is a practical workshop that is rich with creative interventions, inspiring cases, and numerous videos that will allow you to leave the workshop prepared to:
Involve parents in "detective work" to understand child behaviors from the AIP model.

Facilitate the development of self-awareness and self-regulation skills in children.

Process preverbal trauma with EMDR through the therapeutic story.

Help parents attune and respond with sensitivity to the emotions and traumatic memories underlying the child's behaviors.

Implement EMDR Attachment Resource Development (ARD) to enhance parent-child attachment prior to memory work.

Apply EMDR Self Regulation Development and Installation (SRDI) to increase affect and behavioral regulation.

Utilize EMDR empowerment interweaves and other creative interweaves for children with stuck thinking.

Use puppets, plays and stories to help children process the past with EMDR.

Heal and find safety for the "inner child within the child."

Use EMDR with role plays to process current triggers and develop future templates.

Learn to develop collaborative relationships with colleagues to create an effective family-EMDR treatment team.
In addition to the training, participants who wish to pursue the certification path will receive:
FREE 1 hour virtual Q & A session to be scheduled the month following the training.
Case Consultations -Participants may submit cases for consultation to be reviewed in small consultation groups during training.
The following must be used by June 30, 2020:
TWO follow up virtual 2-hour group consultations related to training material for 50% OFF of their standard price of $120 ($60)/consult.
25% OFF The Attachment Trauma Center Institute's Virtual Family Therapy component of the IATP-C model.
About the instructors:
Debra Wesselmann, MS, LIMHP, is a presenter, author, and researcher, and has specialized in treating trauma resolution and attachment problems in adults, children, and families for the past 25 years. Ms. Wesselmann is part of the research team that developed the Integrative Team Treatment model for treating attachment trauma in children, and co-author of the treatment manual. She is a certified consultant for Eye Movement and Desensization and Reprocessing (EMDR), a specialized trauma treatment approach, and has been on the faculty for the EMDR Institute since 1998. Ms. Wesselmann has been invited to present or keynote for numerous professional conferences around the United States as well as in Germany, Hong Kong, Costa Rica, The Netherlands, Canada and Rome.
Cathy Schweitzer, MS, LIMHP specializes in treating trauma resolution and attachment problems in children and adolescents. She is level II trained and certified in EMDR. Cathy is one of the co-founders of The Attachment and Trauma Center of Nebraska and helped develop the EMDR and Family Therapy Integrative Model: Treatment for Attachment Trauma in Children research project. Cathy is one of the co-founders of The Attachment and Trauma Center of Nebraska and is a co-author of books, articles and chapters related to EMDR and traumatized children. Cathy trains clinicians in the integrative model for the treatment of attachment trauma in children and she has presented her expertise nationally and internationally at numerous parent and professional conferences.
Books:
Wesselmann, D., Schweitzer, C., & Armstrong, S. (2014). Integrative team treatment for attachment trauma: Family therapy and EMDR. New York, NY: W.W. Norton.

Wesselmann, D., Schweitzer, C., & Armstrong, S. (2014). Integrative parenting: Strategies for raising children affected by attachment trauma. New York, NY: W.W. Norton.

Wesselmann, D. (1998) The Whole Parent: How to Become a Parent Even if You Didn't Have One, New York: Perseus. (Released as paperback, Da Capo Press, 2002.)

Flash Sale: $399 plus admin fee + GST (before September 1st, 2019).
REGULAR PRICE: $499 plus admin fee + GST (after September 1st, 2019).
Contact information: Envision team at info@envisionservices.ca or 403-801-6710
*Refund policy
Refunds on purchased tickets are available only until August 20th, 2019 (no refund after this date). There is a $75 processing fee for all refunds/price adjustments. *Prices subject to change.
**Cancellations/Changes
The workshop may be cancelled or postponed 45 days prior to its date due to under-enrollment or other circumstances. The workshop shall be cancelled or postponed if unforeseen circumstances, such as presenter illness and/or a natural disaster (a flood, earthquake, tsunami, wildfire, or other major incident) arises. Participants will be refunded 100%.
All grievances must be in writing to info@envisionservices.ca, and will be replied to within 5 - 10 business days.

*IF YOU HAVE SPECIAL NEEDS, DISABILITY OR CONCERNS: Please contact Envision at info@envisionservices.ca or 403-801-6710
---
Continuing Education Credits:
Ce-Classes.com maintains responsibility for this program and its content. Certificates are awarded online after completion of the workshop. Participants print their own certificate after registering at ce-classes.com (an additional fee for CEs applies, fee not included as part of the workshop tuition), and entering a keycode, and completing an evaluation form. Licensed Professionals should contact their regulatory board to determine course approval. CEs are offered through the Attachment Trauma Center Institute.
Ce-Classes.com is approved by:
The American Psychological Association (APA) Ce-Classes.com is approved by the American Psychological Association to sponsor continuing education for psychologists. Ce-Classes.com maintains responsibility for this program and its content.
This course is NOT available for NBCC credit
Florida Certification Board
The Florida Board of Clinical Social Work, Marriage and Family Therapy and Mental Health Counseling Provider #852 BAP-Expires 3/31/2021
The California Board of Behavioral Sciences. Ce-Classes.com is approved to provide continuing education by the following professional organizations: ASWB and APA. The California Board of Behavioral Sciences, BBS, recognizes relevant course work/training that has been approved by these nationally recognized certifying bodies to satisfy renewal requirements.
California Consortium of Addiction Programs and Professionals (CCAPP) Provider Number OS-12-147-0221 Expires 02-2021
The Texas Board of Social Work Examiners, Continuing Education Provider – 5674 expires 4/30/2020
The Texas Board of Professional Counselors, Continuing Education Provider
Massachusetts Authorization Number: 1941
Ohio Counselor, Social Worker and Marriage and Family Therapist Board – Provider # RCST031201 Expires 5/31/2021
New York Social Work Board – Ce-Classes.com is recognized by the New York State Education
Department's State Board for Social Work as an approved provider of
continuing education for licensed social workers #SW-0120.
The Florida Board of Nursing (CE Provider #: 50-4896) Expires 10/31/2020 Do not send certificates to the Florida Board of Nursing. You must keep this certificate for 4 years.
The California Board of Registered Nursing. CEP 15647 Expires 11/30/2020.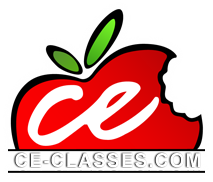 Date and Time
Location
Live Stream
Eastern Time Zone
Canada
Refund Policy
Refunds up to 30 days before event