Live Stream & Recorded Versions - Dr. Uri Bergmann - The Neurobiology of In...
Description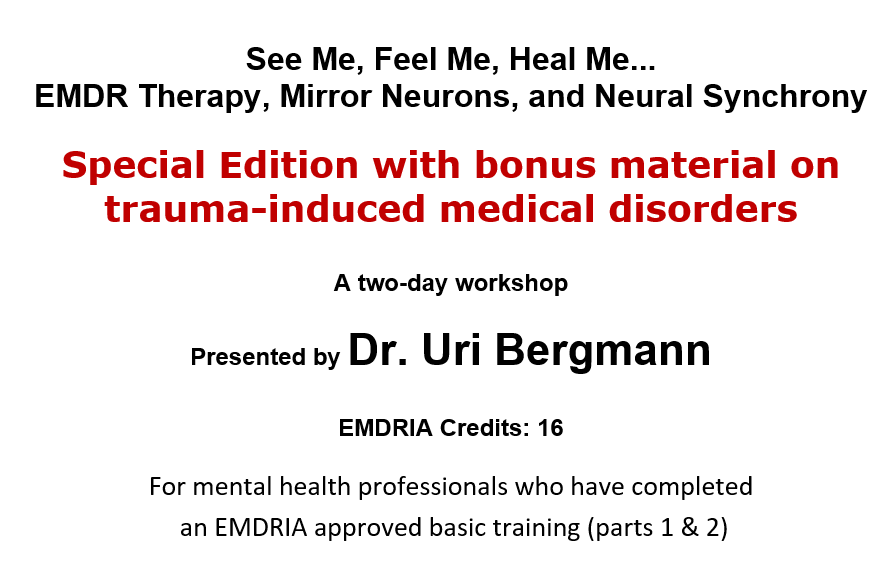 ---

---
What has developmental neurobiology taught us about neurobiological maturation and its resultant psychological development? In what way does the attachment relationship impinge on these processes?
How can an appreciation of these data help us understand exactly how the brain and mind change during EMDR treatment? How do we utilize this knowledge regarding the neurobiology of consciousness and human development to enhance our therapeutic techniques? Is the unconscious/implicit mind important? Should the emphasis on verbal and symbolic, left hemispheric processing that dominates our field continue? Are transference and countertransference phenomena important? Does today's knowledge of neural function redefine them? Is the relational field or vortex that surrounds the therapist and patient important? Can we become more active within this vortex to render it more robust?
These questions have plagued and challenged our various psychological and psychiatric professions, for over a century, causing major arguments, divisions and schisms. Fortunately, the past 20 years have evidenced an avalanche of neurobiological data regarding how the human brain develops in the context of somatosensory stimulation and relational attachment. This vast amount of new information charges us to become more aware, fluent and clinically comfortable with the right hemispheric functioning of our patients and ourselves as we engage in the dance of treatment.
Special Edition with bonus material on trauma-induced medical disorders
Acute, Chronic and Complex PTSD:
Exploring Their Neuroendocrinology and Relationship to Hyperimmune Disorders
What exactly happens on a neurobiological level in acute, chronic and complex PTSD? Is there a relationship between this unusual neuroendocrine profile and a number of medical illnesses which manifest as hyperimmune inflammatory disorders?
This presentation will review and examine the results of extensive neuroendocrine research relative to these trauma-induced disorders. A major focus will be on those symptomatic disorders of Type I Post-Traumatic Stress Disorder (PTSD) and Complex PTSD. The data from these research bases will be integrated with neuroendocrine research findings regarding autoimmune compromises associated with chronic trauma. Conditions, such as Fibromyalgia, Chronic Fatigue Syndrome, Reflex Sympathetic Dystrophy (RSD), Systemic Lupus Erythematosis, Hashimoto's Thyroiditis, Sjogren's Syndrome, Rheumatoid Arthritis, and others will be examined.
This presentation will also clearly illustrate the neuroendocrine and causal relationship between the various forms of PTSD and these medical disorders which have mystified and challenged the fields of psychology, psychiatry and internal medicine. Accordingly, the implications for EMDR treatment will be examined, as well as referrals for medical immuno-suppressive treatment.
Clinical case examples will be used throughout the seminar to illustrate anatomical and neurobiological dynamics. Ample time will be allotted for participant interaction in order to address specific clinical questions of those attending.
Learning objectives:
Participants will be able to describe the neural (maturational) and psychological (developmental) stages of human development with respect to human attachment. Special focus will be given to the somatosensory aspects of the attachment relationships. These threads will be woven together to show that the somatosensory and memory templates of these developmental years form non-conscious templates for affect regulation and interpersonal relationships in adulthood. Participants will learn how the use of dual attention stimuli (DAS) and bilateral stimulation activate orienting responses and areas of the thalamus to promote repair of perceptual, cognitive, memorial, somatosensory and inter-hemispheric functioning.
Participants will be able to use neurobiological data regarding the Default Mode Network and the Mirror Neuron System to illustrate the implications of this material with respect the adaptive information processing model (AIP model) and current EMDR treatment, as well as techniques to render it more robust.

Participants will be able to discuss and explain the function and mediation of the Default Mode Network (DMN). The clinical implications of this knowledge will be illustrated as requiring us to be more aware and track our patients' somatosensory experience throughout the sessions. In addition to asking them what they notice in between BLS sets, we need to be increasingly explicit and also ask them "what do you notice in your body now… where in your body do you notice that? This renders EMDR more embodied, consequently addressing material that, in the absence of such embodied focus, remains dissociated and dysregulated.
Participants will be able to discuss and explain the function and mediation of the Mirror Neuron System (MNS). Review and discussion of recent research on the Mirror Neuron System indicating that accessing our own physical and mental states, during a therapy session, mediates an embodied simulation, allowing us to gain a visceral awareness/insight into another's physical and mental state. Therefore, our clients' body scans simulate aspects of our non-conscious neural working, while our own body scans are giving us information about our clients' non-conscious functions. This relational intersubjectivity is referred to in the neuroscience field as emotional-motor resonance and embodied simulation.
Participants will learn methods of bringing non-conscious experiences to verbal consciousness. Specifically, participants will learn to utilize their own body scans as reflections of the somatic and affective experience of their patients.

Participants will learn the relationship of "noticing" their own bodies to the containment and detoxification of the patient's affective and somatosensory state. Additionally, participants will learn methods of bringing these affective-somatosensory non-conscious experiences to verbal consciousness.

Participants will be able to describe the processes of cortisol's mediation of the anti-inflammatory and inflammatory balance of the autoimmune system.

Participants will be able to identify and describe the mechanisms of cytokines and antibodies in autoimmune function.

Participants will be able to define and describe the connection between the neuroendocrinology of PTSD and these medical disorders.

Participants will be able to discuss and explore the implications of these findings on treatment.
About the instructor:
Uri Bergmann, Ph.D. is an EMDR Institute Senior Facilitator and Presenter as well as an EMDRIA Approved Consultant. He is a past-president of the EMDR International Association (EMDRIA). Dr. Bergmann has lectured and consulted throughout the United States, Europe and South America on EMDR, the neurobiology of EMDR, and the integration of EMDR with psychodynamic and ego state treatment. He has authored and published journal articles and book chapters on the neurobiology of EMDR and the treatment of dissociation, and is the author of Neurobiological Foundations for EMDR Practice. Dr. Bergmann is currently serving on various journal editorial boards and is in full-time private practice in Commack and Bellmore, New York.
---
*Refund policy
Refunds on purchased tickets are available only until August 22nd, 2019 (no refund after this date). There is a $75 processing fee for all refunds/price adjustments. Fees for late arrivals and early departures will not be re-funded. *Prices subject to change.
**Cancellations/Changes
The workshop may be cancelled or postponed 45 days prior to its date due to under-enrollment or other circumstances. The workshop shall be cancelled or postponed if unforeseen circumstances, such as presenter illness and/or a natural disaster (a flood, earthquake, tsunami, wildfire, or other major incident) arises. Participants will be refunded 100%
All grievances must be in writing to info@envisionservices.ca, and will be replied to within 5 - 10 business days.
*IF YOU HAVE SPECIAL NEEDS, DISABILITY OR CONCERNS: Please contact Envision at info@envisionservices.ca or 403-801-6710
---
Continuing Education Credits:
16 EMDRIA CEs