Live Webcast: Better Multi-Family (Multi-Unit Residential) Buildings

Tuesday, 23 August 2016 from 5:45 PM to 7:15 PM (EDT)
Event Details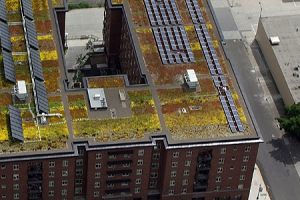 How low can multi-family go? Like any building type, multi-family residential projects can be designed to have very low energy use and high levels of occupant comfort, safety, and health. However, they do have some unique challenges. In this presentation, John Straube will look at what's different about multi-family buildings (including mechanical systems and the need for effective fire and sound separation), how much energy they typically use, and some of the in-service performance problems experienced. He will then discuss strategies for achieving Net-Zero and other high-performance goals to see what can be achieved when strict targets are in place. Finally, he will consider what lessons can be learned about improving the energy performance of any multi-family project.
Presenter: John Straube
 AIA CES Approved!



This presentation is approved for 1.5 AIA CES credits (LU/HSW). Certificates may also be used for self-reported continuing education requirements for many other organizations. 
Learning Objectives:
Understand the unique design requirements of multi-family buildings in terms of the building enclosure and mechanical systems, as well as fire and sound separation between units.

Recognize typical energy use profiles for multi-family buildings and the potential to achieve drastically reduced energy use.

Identify specific strategies for reducing energy use and increasing durability, including high-performance enclosures and renewable energy collection.

Be able to appropriately select from high-performance strategies and apply them to a range of projects to reduce energy use.
 Other Details:
Registration options have changed. To receive a certificate or have AIA credits submitted, please purchase an individual registration.
Live webcasts are time and date specific. If you miss the live event, there will be no refunds. However, a recording of the event will be made available to participants for a limited period. Please see the

FAQs

for more information.
You will receive email instructions to login to the webcast for this event; please ensure that you provide a current email address.
Live feed will start a little before the presentation start time of 5:45 and will end at approximately 7:15.
Note: This webcast is also taking place as an in-person event. If you want to register for the webcast, you are on the right page. If you are want to attend in person, please go to the local event page. 
What are LAB Events?
Learning About Building Science (LAB) Events are monthly training and networking opportunities hosted by Building Science Laboratories. They are interactive, informative, casual events for architects, engineers, and anyone interested in building science. 
More Information:
RDH Building Science Laboratories
167 Lexington Court, Unit 6
Waterloo, Ontario, Canada, N2J 4R9
Phone: (519) 342.4731
live@buildingsciencelabs.com
subscribe to the LAB Events newsletter
Organizer
Building Science Laboratories, a division of RDH Building Science Inc., is committed to expanding building science knowledge through research, education, and collaboration among building science professionals. By promoting sound principles established through research, while working with on-the-ground industry partners, we aim to have a lasting impact on the quality and energy efficiency of the built environment.