Live Webcast: Effectiveness of Different Drip Edge Designs

Tuesday, 21 October 2014 from 5:45 PM to 7:15 PM (EDT)
Event Details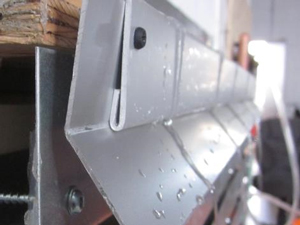 Surprisingly little research has been done into the effectiveness of different drip edge designs.  Drip edges are found at window sills, window head flashing, and the edges of roofs and balconies – all critical areas for managing rainwater.  By deflecting rain from the exterior surface of a wall, drip edges can reduce moisture-related issues such as freeze thaw of masonry, staining of the cladding, and potential long term erosion of historical materials.

For this LAB Event Webcast, Jonathan Smegal and Alex Lukachko will provide a sneak peek at research being presented at this year's CCBST conference. The study that they will describe used a custom-designed apparatus to compare the effectiveness of different drip edge materials, profiles and overhang distances. Results show a significant range in performance.

Join us to hear more, including practical conclusions, and to see a live demonstration of the research equipment.
Details:
Cost for this event is $25/person (USD). Group rates are also available.
You will receive email instructions to login to GoToMeeting for this event; please ensure that you provide a current email address.
Live webcasts are time and date specific. If you miss the live event, there will be no refunds. However, a recording of the event will be made available to participants for a limited period. Please see the

FAQs

for more information.

Presentation time is 1.5 hours (eligible for OAA structured learning hours).

Live feed will start a little bit before the presentation start time of 5:45 and will end at approximately 7:15.
Note: This webcast is also taking place as an in-person event. If you want to register for the webcast, you are on the right page. If you are local and want to attend in person, please go to the local event page. The local event is by invitation; please contact us for the password to register.
What are LAB Events?
Learning About Building Science (LAB) Events are monthly training and networking opportunities hosted by Building Science Consulting Inc./Building Science Laboratories. They are interactive, hands-on, casual events for architects, engineers, and anyone interested in building science. LAB Events include regular free and sponsored events. We hope to see you there!
More Information:

167 Lexington Court, Unit 6
Waterloo, Ontario, Canada, N2J 4R9
Phone: (519) 342.4731
info@buildingsciencelabs.com
subscribe to the LAB Events newsletter
Organizer
Building Science Laboratories, a division of RDH Building Science Inc., is committed to expanding building science knowledge through research, education, and collaboration among building science professionals. By promoting sound principles established through research, while working with on-the-ground industry partners, we aim to have a lasting impact on the quality and energy efficiency of the built environment.