Live Webcast: Insulating Load-Bearing Masonry

Tuesday, 20 January 2015 from 5:45 PM to 7:15 PM (EST)
Event Details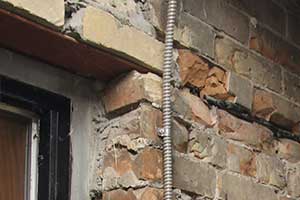 As energy-efficiency demands increase, more and more insulation is being added to existing buildings as part of retrofits and renovation work. For load-bearing masonry buildings, available insulation strategies have unique pros and cons. Some people say it's not worth insulating them; some even say that you can't. How can you decide? And if you go ahead, how do you do it right? At our January LAB Event, Chris Schumacher and Randy Van Straaten will tackle these questions by walking through risk-assessment case studies and addressing common myths about insulating masonry walls.
Freeze-thaw damage has long been recognized as a problem for masonry buildings. But many myths and misunderstandings persist. By understanding how insulation can, in some cases, raise the risk, you can make better risk-assessment decisions and ultimately choose safer thermal retrofit strategies.
Drawing on case studies from the field, as well as their extensive experience with masonry research, Chris and Randy will look at past methods and current recommendations for both risk-assessment and design. Over the course of the presentation, they will dispel the myths around insulating masonry buildings and leave you with a stronger understanding of the building science.
Details:
Cost for this event is $25/registration (USD). Applicable taxes are included. You can purchase an individual registration or a small-group registration (for up to 4 people to view from the same physical location). Discounted rates for larger groups are also available.
Presentation time is 1.5 hours (eligible for OAA structured learning hours). Each participant must complete a brief quiz to receive a certificate.
You will receive email instructions to login to GoToMeeting for this event; please ensure that you provide a current email address.
Live webcasts are time and date specific.  If you miss the live event, there will be no refunds.  However, a recording of the event will be made available to participants for a limited period. Please see the

FAQs

for more information.
Live feed will start a little bit before the presentation start time of 5:45 and will end at approximately 7:15.
Note: This webcast is also taking place as an in-person event. If you want to register for the webcast, you are on the right page. If you are local and want to attend in person, please go to the local event page. 
What are LAB Events?
Learning About Building Science (LAB) Events are monthly training and networking opportunities hosted by Building Science Consulting Inc./Building Science Laboratories. They are interactive, hands-on, casual events for architects, engineers, and anyone interested in building science. LAB Events include regular free and sponsored events. We hope to see you there!
More Information:

167 Lexington Court, Unit 6
Waterloo, Ontario, Canada, N2J 4R9
Phone: (519) 342.4731
info@buildingsciencelabs.com
subscribe to the LAB Events newsletter
Organizer
Building Science Laboratories, a division of RDH Building Science Inc., is committed to expanding building science knowledge through research, education, and collaboration among building science professionals. By promoting sound principles established through research, while working with on-the-ground industry partners, we aim to have a lasting impact on the quality and energy efficiency of the built environment.