Live Webcast: Temperature-Dependent R-Values for Roof Insulation Materials

Tuesday, 10 February 2015 from 5:45 PM to 7:15 PM (EST)
Event Details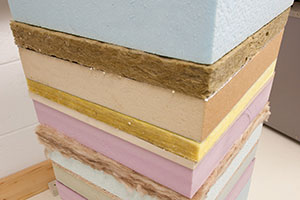 Insulation products used in the residential market are required to report R-values according to the "R-value Rule" (FTC CFR Part 460). This has led to the wide adoption of standard test procedures that don't tell the whole story about thermal performance. After reviewing the basic principles of heat flow, Chris Schumacher and John Straube will discuss how insulation R-value is measured and how the method chosen affects the results. They will then review BSCI research over the last 5 years that has shed new light on the temperature-dependency of R-values. At cold and warm temperatures many insulations exhibit significantly different performance than rated R-value. For some insulation materials, the difference between expected and actual performance might be as great as 40%! The implications for design and material selection (e.g. hybrid wall and roof systems) will be discussed.
 Now AIA CES Approved!
We have recently become an AIA CES approved provider, and this presentation is now approved for AIA CES credits. Please review the registration options as they have been updated. For this event, we are offering our continuing education certificate/credit option at no extra cost! 

Learning Objectives:
Understand the basic principles of heat flow, the physical definition of R-value, and how R-value relates to whole building energy efficiency.

From the key research findings, understand the performance of roof insulation materials in the range of cold and warm in-service climate conditions.

Understand the potential impacts of unexpected thermal performance on the energy efficiency and durability of insulated buildings.

Be able to apply two strategies that can reduce the impact of temperature-dependency on wall and roof thermal performance and hence mitigate potential impacts on energy efficiency and durability.
 Other Details:
Approved for 1.5 AIA LU/HSW credits. Certificates may also be used for self-reported continuing education requirements for many other organizations.
Course format is instructor-led distance education (live webcast). Live webcasts are time and date specific. If you miss the live event, there will be no refunds. However, a recording of the event will be made available to participants for a limited period. Please see the

FAQs

for more information.
You can purchase an individual registration or a small-group registration (for up to 4 people to view from the same physical location). If you or your group would like certificates or AIA credits, please select this option during registration. Discounted rates for larger groups (20+) are also available.
You will receive email instructions to login to the webcast for this event; please ensure that you provide a current email address.
Live feed will start a little bit before the presentation start time of 5:45 and will end at approximately 7:15.
Note: This webcast is also taking place as an in-person event. If you want to register for the webcast, you are on the right page. If you are local and want to attend in person, please go to the local event page. 
What are LAB Events?
Learning About Building Science (LAB) Events are monthly training and networking opportunities hosted by Building Science Consulting Inc./Building Science Laboratories. They are interactive, hands-on, casual events for architects, engineers, and anyone interested in building science. 
More Information:

167 Lexington Court, Unit 6
Waterloo, Ontario, Canada, N2J 4R9
Phone: (519) 342.4731
live@buildingsciencelabs.com
subscribe to the LAB Events newsletter
Organizer
Building Science Laboratories, a division of RDH Building Science Inc., is committed to expanding building science knowledge through research, education, and collaboration among building science professionals. By promoting sound principles established through research, while working with on-the-ground industry partners, we aim to have a lasting impact on the quality and energy efficiency of the built environment.