Live Webcast: Thermal Bridges and Building Codes – Defining the Future of Energy Efficiency

Tuesday, 18 November 2014 from 5:45 PM to 6:15 PM (EST)
Event Details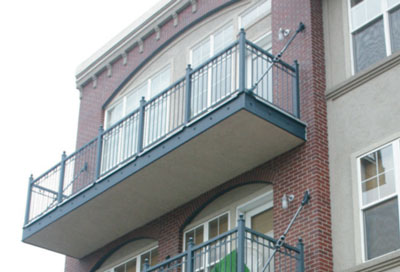 Building codes and standards in Europe and North America are starting to force the issue of thermal bridging. On November 18th, Dr. John Straube will look at the significance of this trend and what it might mean for energy efficiency in the building industry.
Drawing on examples from numerous projects and code jurisdictions, Dr. Straube will discuss how the definition of thermal bridging has played out in real-life design scenarios. ASHRAE 90.1, for example, includes provisions to limit thermal bridging but is not currently sufficiently clear. As a consequence, there are cases where Z-bars (which penetrate the continuous insulation) have been considered "fasteners" and not counted as thermal bridges. In general, the restriction and understanding of thermal bridging varies depending on where you are.
Looking to the future, Dr. Straube's presentation will include information from ASHRAE, BC Hydro, the Passive House Academy, and a recently completed project for the US Army Corps of Engineers. Examples of the significance, or insignificance, of specific types of thermal bridges as a function of climate and building type will be presented, methods of calculation and regulation will be discussed, and some simple techniques for solving common thermal bridging problems shown. We have not yet achieved wide acceptance of effective measures to limit thermal bridging or begun to seriously address this problem -- but it's coming.
Details:
Cost for this event is $25/person (USD). Group rates are also available.

You will receive email instructions to login to GoToMeeting for this event; please ensure that you provide a current email address.
Live webcasts are time and date specific.  If you miss the live event, there will be no refunds.  However, a recording of the event will be made available to participants for a limited period. Please see the

FAQs

for more information.

Presentation time is 1.5 hours (eligible for OAA structured learning hours).

Live feed will start a little bit before the presentation start time of 5:45 and will end at approximately 7:15.
Note: This webcast is also taking place as an in-person event. If you want to register for the webcast, you are on the right page. If you are local and want to attend in person, please go to the local event page. The local event is by invitation; please contact us for the password to register.
What are LAB Events?
Learning About Building Science (LAB) Events are monthly training and networking opportunities hosted by Building Science Consulting Inc./Building Science Laboratories. They are interactive, hands-on, casual events for architects, engineers, and anyone interested in building science. LAB Events include regular free and sponsored events. We hope to see you there!
More Information:

167 Lexington Court, Unit 6
Waterloo, Ontario, Canada, N2J 4R9
Phone: (519) 342.4731
info@buildingsciencelabs.com
subscribe to the LAB Events newsletter
Organizer
Building Science Laboratories, a division of RDH Building Science Inc., is committed to expanding building science knowledge through research, education, and collaboration among building science professionals. By promoting sound principles established through research, while working with on-the-ground industry partners, we aim to have a lasting impact on the quality and energy efficiency of the built environment.