Live Webcast: Ventilation and Vapor Control for SPF Insulated Cathedral Ceilings

Tuesday, 23 September 2014 from 5:45 PM to 7:15 PM (EDT)
Event Details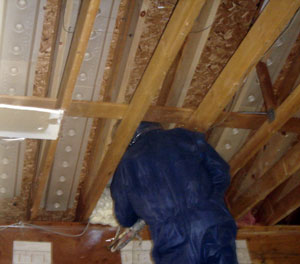 Cathedral ceilings have become more popular over time, as consumers look to use more attic space and demand higher, more interesting ceilings.  However, cathedral ceilings have traditionally had poor performance in cold climates because they are sensitive to air leakage condensation. SPF can be used to address this problem with an unvented design. However, despite years of successful application, the unvented airtight SPF roof is still often met with resistance from designers, building owners, and code officials.

At this LAB Event Webcast, Jonathan Smegal and John Straube will report on research completed by Building Science Consulting Inc. based on data collected at the University of Waterloo BEGHut. The BEGHut is a unique natural exposure test facility that has been used since 1999 to field test a variety of roof and wall systems. For this project, full-scale residential vented and unvented cathedral roof systems were exposed to natural outdoor conditions as well as intentional controlled wetting events. Hygrothermal simulations were then conducted to support the measured data and predict the performance of identical roof systems under different conditions.

Join us and find out what we learned. Staff from Building Science Labs will monitor messages from the webcast audience so bring your questions!
Details:
Cost for this event is $25/person (USD). Please contact us for group rates.

You will receive email instructions to login to GoToMeeting for this event; please ensure that you provide a current email address.
Live webcasts are time and date specific.  If you miss the live event, there will be no refunds.  We may post a recording of the event in the future. Please see the FAQs for more information.
Presentation time is 1.5 hours.
Live feed will start a little bit before the presentation start time of 5:45 and will end at approximately 7:15.
Note: This webcast is also taking place as an in-person event. If you want to register for the webcast, you are on the right page. If you are local and want to attend in person, please go to the local event page. The local event is by invitation; please contact us for the password to register.
What are LAB Events?
Learning About Building Science (LAB) Events are monthly training and networking opportunities hosted by Building Science Consulting Inc./Building Science Laboratories. They are interactive, hands-on, casual events for architects, engineers, and anyone interested in building science. LAB Events include regular free and sponsored events. We hope to see you there!
More Information:

167 Lexington Court, Unit 6
Waterloo, Ontario, Canada, N2J 4R9
Phone: (519) 342.4731
info@buildingsciencelabs.com
subscribe to the LAB Events newsletter 
Organizer
Building Science Laboratories, a division of RDH Building Science Inc., is committed to expanding building science knowledge through research, education, and collaboration among building science professionals. By promoting sound principles established through research, while working with on-the-ground industry partners, we aim to have a lasting impact on the quality and energy efficiency of the built environment.